The power management product range for power distribution in the data center is based on the consistent implementation of plug-&-play expansion – with no need to interrupt current operations. Down-times are avoided and future operating costs are lowered. Don't see what you're looking for below? Contact an expert to find a well-matched solution.
Power equipment include:
Rack Power Manager Features Snapshot:
Consolidated user interface for centralized management.
Monitor and measure energy consumption costs (per device).
Real-time visibility into power usage to operate or manage power more efficiently.
Identify costs and trends to simplify power and cooling capacity planning.
Determine actual energy usage by department to create charge-back process.
Identify what activities can be moved to off-peak times or virtualized servers.
Ability to set a maximum on power usage and threshold alerts to stay within budget.
Preemptive notifications and environmental alarms.
Integration with DSView 4 software provides a consolidated tool for complete management of IT assets from a single interface.
Gather and aggregate power information from a variety of different PDUs.
Capture power usage at any moment in time and energy usage (kWh) over a period of time.
Environmental monitoring.
Power management as well as power control to individual outlets.
Aggregation and reporting at all levels within the data center.
Calculate costs to power a rack (racks or entire data center) per moment, per day or over time.

Explore Power Topology Options
PDU (Power Distribution Unit)
A power distribution unit (PDU) provides steady, uninterruptible power to multiple servers in a rack environment. The rackmount PDUs are designed to be installed in a vertical (0U) or horizontal (1U or more) server rack position. This device is essentially an industrial-grade power strip.
The main purpose of a PDU is to supply AC power to multiple IT equipment pieces within the rack system. Distribute power simply with a basic power strip with no internal intelligence or boost it up with a more advanced model including outlet level power monitoring to remotely monitor, control, and report the status of every outlet within the unit.
Offered in many sizes, colors, and configurations, rack PDUs can be customized to meet the demands involving: voltage, current, number and type of connections, remote access, and monitoring functionality. Rack mountable PDUs are available in these five main conventional designs, with an additional subset for even more precise control: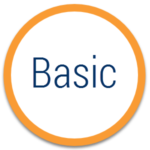 Provide power to the IT equipment without any advanced features such as metering or monitoring. They are widely available, easy to use and have a lower cost.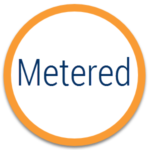 Provide the data necessary to properly load and balance rack power circuits. LED display lets administrators know how much headroom exists between current capacity and the maximum draw of the strip.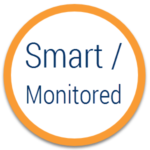 Typically include the feature sets of metered products in a single unit but also has the ability to remotely (IP) monitor the state of the distribution unit.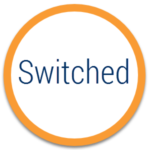 Typically include the feature sets of metered products in a single unit but also has the ability to remotely (IP) monitor the state of the distribution unit.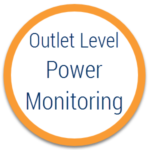 Provides unprecedented reliable and granular visibility into power consumption, coupled with remote/network power, and environmental monitoring.
Ready to shop for your PDU solution today? Visit Server Racks Online
UPS (Uninterruptible Power Supply)
The uninterruptible power supply (UPS) is a back-up power system used to ensure uninterrupted power for various electronic devices. All but the most basic UPS systems also condition incoming power to level out sags and surges, helping to prevent damage to today's sensitive electronic gear.
The UPS has it's own rechargeable battery which provides emergency power for your system immediately when the main supply is cut, therefore preventing data loss. In the event of a sustained power failure, the UPS will provide sufficient battery power for your files to be saved and for the whole system to be shut down in an orderly manner. If an alternative power source such as a generator is available, the battery will provide sufficient power to keep your system running until the secondary supply is brought online. Most UPS's also filter the power supply entering your computer system, limiting the detrimental effect of "spikes", "noise" and other electrical disturbances.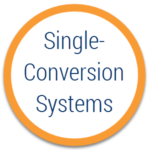 Single-Conversion Systems
More efficient than double-conversion devices, but offer less protection. A good fit for loads with a higher tolerance for failure. The UPS stays on battery power until the AC input returns to normal tolerances or the battery runs out of power, whichever happens first.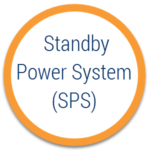 Standby Power System (SPS)
Most commonly used to protect POS equipment and single work stations. Standby UPSs allow IT equipment to run off utility power until the UPS detects a problem, at which point it switches to battery power.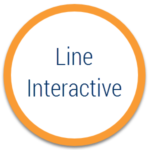 Line Interactive
Most commonly used UPS system for network environments. Used for small networks all the way up to enterprise applications. These UPS systems regulate input voltage up or down as necessary before allowing it to pass through to protected equipment.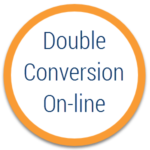 Double Conversion On-line UPS
Less efficient, but provides the highest levels of protection and are usually the standard choice for protecting mission-critical systems. The double-conversion process isolates critical loads from raw utility power completely, ensuring that IT equipment receives only clean, reliable electricity. In normal operation, a double-conversion UPS continually processes power twice.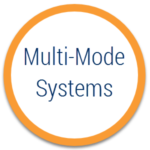 Multi-Mode Systems
Although they may be more expensive than either single or double conversion systems, they are the best choice for companies looking to achieve an optimal blend of both efficiency and protection. These combine features of both single- and double-conversion technologies and provide substantial improvements in both efficiency and reliability.
Continue Reading…
Ready to shop for your UPS solution today? Visit Server Racks Online
ATS (Automatic Transfer Switch)
Automatic Transfer Switches are critical components of any emergency or standby power system needing to maintain up-time. These switches automatically sense power loss and seamlessly switch to a back-up circuit. An ATS can provide fast (load transfers within 8 to 15 ms) and reliable load transfers from one power source to another.These type of switches are reliable, compact rack units for transferring essential loads and electrical distribution systems. The ideal environments include cloud computing infrastructures and data center racks filled with one-power-supply devices and adds an additional piece of automation in an increasingly automated data center.
Ready to shop for your ATS solution today? Visit Server Racks Online
Remote Power
Remote Power Management Eliminates Unnecessary Downtime
Remote reboot power management solutions allow administrators to remotely power cycle servers and devices and troubleshoot problems, both locally and remote, from any location in the world. This provides administrators with the ability to manage servers more efficiently and reduce server downtime by affording direct access to power control. Remote power management solutions are also used by many businesses and organizations to manage servers at offices and branch locations where there are no IT staff members, offering cost-efficient lights-out operation at those sites.
Remote power management solutions add increased functionality over traditional metered and basic power products. While many server rack power distribution units (Rack PDUs) can provide basic information and amperage readings, only intelligent or switched Rack PDUs truly provide the benefit of outlet-level management.
In determining an appropriate power management solution, integration with today's KVM over IP solutions should be considered. Most enterprise KVM over IP solutions provide the ability to integrate power management within the same interface as the console session on each attached server. This integration can provide Data Center administrators with comprehensive remote power management capabilities.
Recent advances in remote power management include:
Branch Circuit Protection
Several products now provide branch circuit protection – each branch of grouped Power Outlets has its own fuse and circuit breaker, to isolate power anomalies and issues.
3-Phase Power
The use of 3-Phase power in server room and data centers is on the rise. 3-Phase power provides more balanced power loads and allows a greater flow of power into a server rack, while using fewer circuits.
Power-Up Sequencing
Several products offer the ability to inflow of power to each receptacle, to prevent circuit overload and allow systems to reboot in sequence, such as firewalls, then routers, then servers.
Ready to shop for your Remote Power solution today? Visit KVM Switches Online