Now you know what is a PDU, let's find the best fit for your application, based on type and available customization.
PART 1: Types of PDU
Type of PDU
Key Features
Recommended Application
Basic
- Provide power to the IT equipment without any advanced features such as metering, monitoring or remote access functionality.

- Known for their lower cost, wide availability, and ease of use.
Metered
- Provide the data necessary to properly load and balance rack power circuits.

- The LED display lets administrators know how much headroom exists between current capacity and the maximum draw of the strip.

- Professionals are able to make informed decisions about equipment installation.
Smart / Monitored
- Typically includes the feature sets of the metered products in a single unit but also has the ability to remotely (IP) monitor the state of the distribution unit.

- Access to these models is typically accomplished through dedicated remote access software that is included with the PDU, direct web interface, SNMP or serial (RS232) menu.
Switched
- Typically includes the features of the Metered PDU as well as the ability to remotely control the on/off state and reboot capabilities of each outlet contained in the unit through a web interface or a serial (RS232) menu.

- Often used by the Admin Manager to "lock off" any number of outlets to prevent accidental connection of equipment that might overload the circuit.
Outlet-Level Monitoring
- Provides unprecedented reliable and granular visibility into power consumption, coupled with remote/network power and environmental monitoring.

- Use the built-in network interface to view power, temperature and humidity levels via Web browser, or SNMP-based and email alerts when conditions exceed defined thresholds.

- Provide power monitoring per an individual outlet/device -- Power information per individual outlet/device includes current, voltage, power (kW), apparent power, crest factor, and power factor.
PART 2: Customize High Density Rack PDUs
There is a significant trend in data centers for more outlets in a smaller space, driven by data centers being short on real estate, growing rack heights, and maximum densities of 1U equipment. Within these densities there is not only a need for more outlets but also a need for flexibility on outlet configuration.

High Density Outlet Technology (HDOT) provides up to 42 C13's in a 42U high by 1U wide device, the highest possible outlet density available in a network connected PDU. Manufactured with robust high temperature materials carrying a UL94 V-0 flame rating makes these outlets ideally suited for harsh data center environments. Additional features include high native cord retention that eliminates the need for custom and costly ancillary locking cord devices.
A) Color your PDU
Colored PDUs easily identify redundant power feeds. Full-colored PDU options provide visual control of power feeds and easy identification. Imagine being able to tell a technician that the Blue PDUs are the ones they need to focus on. And, colored secure lock cables for easier installation complete the setup. We can customize our PDUs to meet even the most demanding needs including number of outlets, phase balancing, staggered outlets, cord lengths, multiple inputs and more.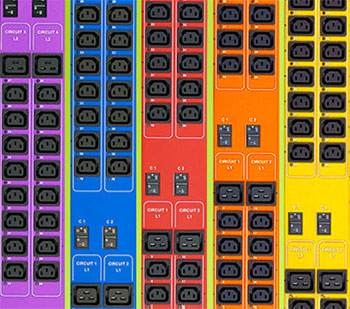 Benefits of a Color-Coded PDU:
Help identify redundant power feeds – Use different colors to identify the "A" and "B" feeds.
Make it easier to determine the right (or is that left) PDU – Simplify communications by referring to the color of the PDU rather than left or right.
Clearly identify the power chain – Use a single color to identify the elements in the chain to quickly see which supplies power to a specific rack.
Identify different voltages – Use different colors to identify the various voltages within the facility.
Reduce lighting requirements – Use white PDUs with white cabinets for increased reflectivity.
B) Custom Input Cord Lengths
Match the input cord to the specific application. Custom input cord lengths make excess cord a thing of the past and allow Rack PDUs to reach further then ever before. Need a 2 foot input cord to reach a UPS right next to the rack? We can help you do that. Need a 14 foot cord to go under the raised floor? We can help you do that too. Call us at 1-800-638-26538 to discover a full range of input cord lengths for your next PDU.

PART 3: The Power Supply Chain
There's a key part of the data center supply chain that often resides in nondescript boxes on the data center floor. These products-floormount power distribution units (PDUs) and remote power panels (RPPs)-distribute power to the data center racks. Modern systems can achieve efficiencies in the ninetieth percentile and represent a great point to measure and trend a data center's IT load.
Each data center's power distribution requirements are different. 42U's solutions specialists are versed in the latest technologies and can help you design, install, and support the appropriate design for your data center or computer room.
Floormount Power Distribution Unit (PDU)
Floormount PDUs traditionally contain isolation transformers and any number of 42 pole panel boards, which feed power downstream to rack based PDUs. They support a variety of kVA capacities and can be integrated with monitoring software to trend power consumption and plan for future power needs.
Remote Power Panel (RPPS)
Remote power panels contain the same branch circuit panel boards as floor mount PDUs without the isolation transformer. They support a variety of kVA capacities and can also include best-in-class power monitoring software.
The 42U Advantage
You will find very few of these power distribution products "off-the-shelf." Each manufacturer will have standard components that they integrate into an engineered solution based on your power requirements. 42U takes this engineering further, where individual power distribution, rack PDU, cooling, and monitoring products become an optimized, packaged solution. Contact your 42U sales engineer today at 1-800-638-2638.
Continue Reading…