APC leads the market with an established focus in cutting-edge, modular IT environment solutions. Configuring server rack elements to ensure a situation's required necessities is a specialty of the 42U technical experts.
For nearly four decades, APC has become the industry-standard for reliable power and physical IT infrastructure. Now the leading name in IT departments large and small and among our vast community of channel partners, our history of innovation has pushed our products into the global spotlight with infrastructure, management, and data security solutions protecting organizations around the world.
Back to 42U vendor page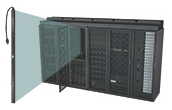 Power protection solutions from home entertainment to data center to industrial environments.
Uninterruptible Power Supply (UPS)
Surge Protection and Power Conditioning
Audio-Video Solutions
Mobile Accessories

Cooling solutions for IT equipment from network closets to data centers.
Room Air Conditioners
Close Coupled Air Conditioners
Containment and Air Distribution
Air Economizers

Physical threat monitoring solutions from network closets to data centers.
Security and Environmental Appliances
NetBotz 200
NetBotz 300
NetBotz 400
NetBotz 500
NetBotz Access Control
Sensors / Cameras / Licenses / Accessories
Security Cameras
Software for NetBotz Appliances
NetBotz Accessories and Cables
NetBotz Rack Access
NetBotz Sensors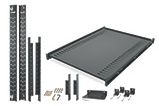 Racks, enclosures and accessories for IT equipment from network closets to data centers.
Racks and Enclosures
Rack and Enclosure Accessories
LCD Monitors and KVM Switches

Power distribution and transfer switch solutions for IT equipment from network closets to data centers.
Row 3 Phase Power Distribution
Room Power Distribution
Transfer Switches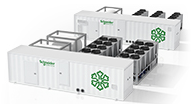 Power control units are essential for remote power management and control. Power control units can be used to power down and power up multiple individual devices.
Power Modules
IT Modules
Cooling Modules

A comprehensive suite of modular and integrated software tools.
Enterprise
Operations
Control
Management Software Services
55,000+ Client Companies Have Chosen 42U
There's a reason we're the #1 choice of so many IT professionals.
Contact us and experience why.

Questions? Call us.
Call in and speak with one of our knowledgeable solutions engineers who will answer any questions you might have.
1-800-638-2638

One of our data center solutions specialists will work together with you to find the optimal solution for your system.
[email protected]