Cooling solutions for IT equipment from network closets to data centers.

Room Air Conditioners
Perimeter cooling units and accessories for efficient, modular and flexible room level control.
Uniflair LE
Room Cooling Accessories

Close Coupled Air Conditioners
Energy efficient cooling from low to high density racks and zones.
InRow Chilled Water Cooling
InRow Direct Expansion
Row Cooling Accessories

Containment and Air Distribution
Managing airflow for rows, racks and hot spots.
Thermal Containment
Rack Air Distribution
Room Air Distribution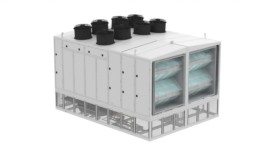 Air Economizers
High efficiency air side economizers for large data centers.
EcoBreeze Air Economizers
55,000+ Client Companies Have Chosen 42U
There's a reason we're the #1 choice of so many IT professionals.
Contact us and experience why.

Questions? Call us.
Call in and speak with one of our knowledgeable solutions engineers who will answer any questions you might have.
1-800-638-2638

One of our data center solutions specialists will work together with you to find the optimal solution for your system.