Niagara Video is a provider of Internet Protocol Television (IPTV) systems that can be used locally or across the Internet. With more than two decades of industry experience and a trusted network of suppliers around the world, providing superior quality IPTV systems and components at competitive prices. Customers include schools, companies, hotels, hospitals, and government agencies. You can always see the units on KVM Switches Online.
IPTV Systems, Types, and Components
IPTV systems provide digital television service by using Internet Protocol (IP) technology via an internet connection or from your own network. Local content typically is Over-the-Air, Cable, or Satellite content or content that is produced by the company/school itself.  Solutions exist for a wide variety of devices ranging from PCs to Set-Top Boxes to BYOD (Bring Your Own Device).
Featuring
Basic Enterprise IPTV – This solution is typically for Live TV services only. The TV programs can come from an Antenna for local TV channels and could also be Cable or Satellite. In some cases, the content comes entirely from the customer. Lastly, there are also hybrid solutions combining TV programs with custom content.
Enhanced IPTV – This solution offers features such as an EPG, DVR, and content encryption.
Content – typically managed by the customer and involves implementing an antenna for OTA local channels and Cable or Satellite for premium and/or basic cable channels.
Over-The-Air Channels – OTA channels in most countries are unencrypted and available without a subscription, including content such as PBS and local TV channels. The bandwidth of your network and Internet access ultimately determines the number of channels that can be viewed.
Cable Channels – Most Cable channels are encrypted and usually require a subscription to decrypt the channels and make them accessible. This can be done in an economical fashion with products from Niagara. Pay-TV channels originating from cable tv sources. These can be legally decrypted using a special process from Cable Labs which we have the authority to do.
Satellite Channels -Satellite content comes from a provider like DISH or DirecTV in the US. This content is decoded by a Set Top Box typically and then re-encoded with a multi-channel encoder.
Benefits of IPTV
IPTV offers a number of benefits over existing television and internet services.
Reduced costs. Niagara has various hardware and software products that are cost-competitive in the industry. Solutions are available that scale from small to large. 
Easy to extend. IPTV access can be extended to users wherever there is a network connection, so extending the IPTV system throughout an organization is easier and more cost-effective. What's more, recent developments allow it to extend over the Internet to keep everyone connected no matter where they are.
Lower bandwidth usage. Multicast IPTV significantly reduces bandwidth usage by streaming each channel one time, instead of using multiple data streams for each end-user. 
Heightened security and access control. Allow for control of content by the user and secondary encryption can also be added.
Reduced maintenance and oversight. More efficient organization and planning. Without the need for large-scale network maintenance and oversight, your IT and management resources can be put to better use.
Find the units to enable IPTV on KVM Switches Online.
Implementing a Full IPTV Solution with Niagara TV IMS
Niagara TV is a web-based,cloud-hosted, IPTV management platform and player. The solution includes a license with support for the setup top boxes, web player, PC Player, Mobile, and Streaming devices. This is a full-service suite that is custom-fitted to your IPTV needs.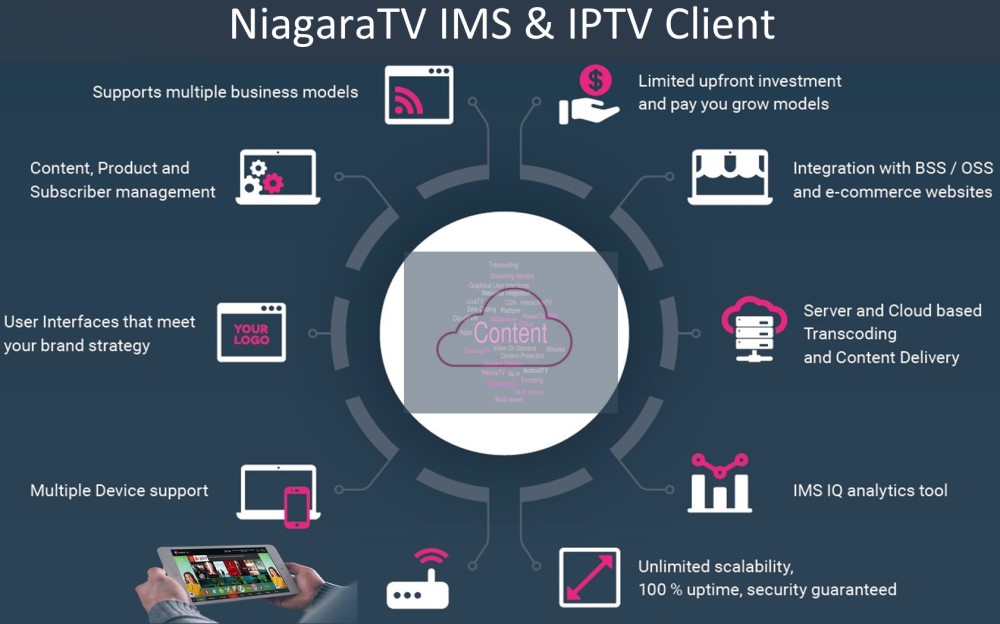 Use Niagara TV to centralize management of Live TV with CatchupTV, CloudPVR, Pause, Replay, Electronic Program Guide, Content Sharing, and play out on end-user.
Have any questions? Ready to implement IPTV as soon as possible?   Contact Us
Signal management is a critical element of effective workflow communication.
There's a reason we're the #1 choice of so many IT professionals.
Contact us and experience why.

Questions? Call us.
We're here to assist you with optimizing your power backup, distribution, and measurement for a more efficient server room.
1-800-638-2638

One of our data center solutions specialists will work together with you to find the optimal solution for your system.