Stay Powered. Be Supported. Get Ahead.
Server Technology's power strategy experts have provided power solutions for labs, data centers, and telecommunications operations for 30 years. Over 60,000 customers around the world rely on their rack power distribution units and award winning power management solutions to reduce downtime, facilitate capacity planning, improve energy utilization, and drive efficiency. With the best quality, best technical support and most patents, Server Technology products provide uncompromising reliability, innovation, and value for the data center.
Founded in 1984, ServerTech, Inc. is a pioneer and leader in Remote Power Management technology, manufacturing a line of remotely addressable power switches called Sentry Remote Power Managers. Available for both AC and DC power supply, Sentry products enable remote power control (off, on, reboot, graceful shutdown) of servers and internet working devices in remote equipment rooms, POP sites, Telco central offices and other co-location facilities.
Sentry products are used in data centers, network rooms, switching offices, wiring closets and remote offices locations and are for a variety of applications, including sever management, data center management, backbone equipment and Customer Premise Equipment.

Back to
42U Vendor page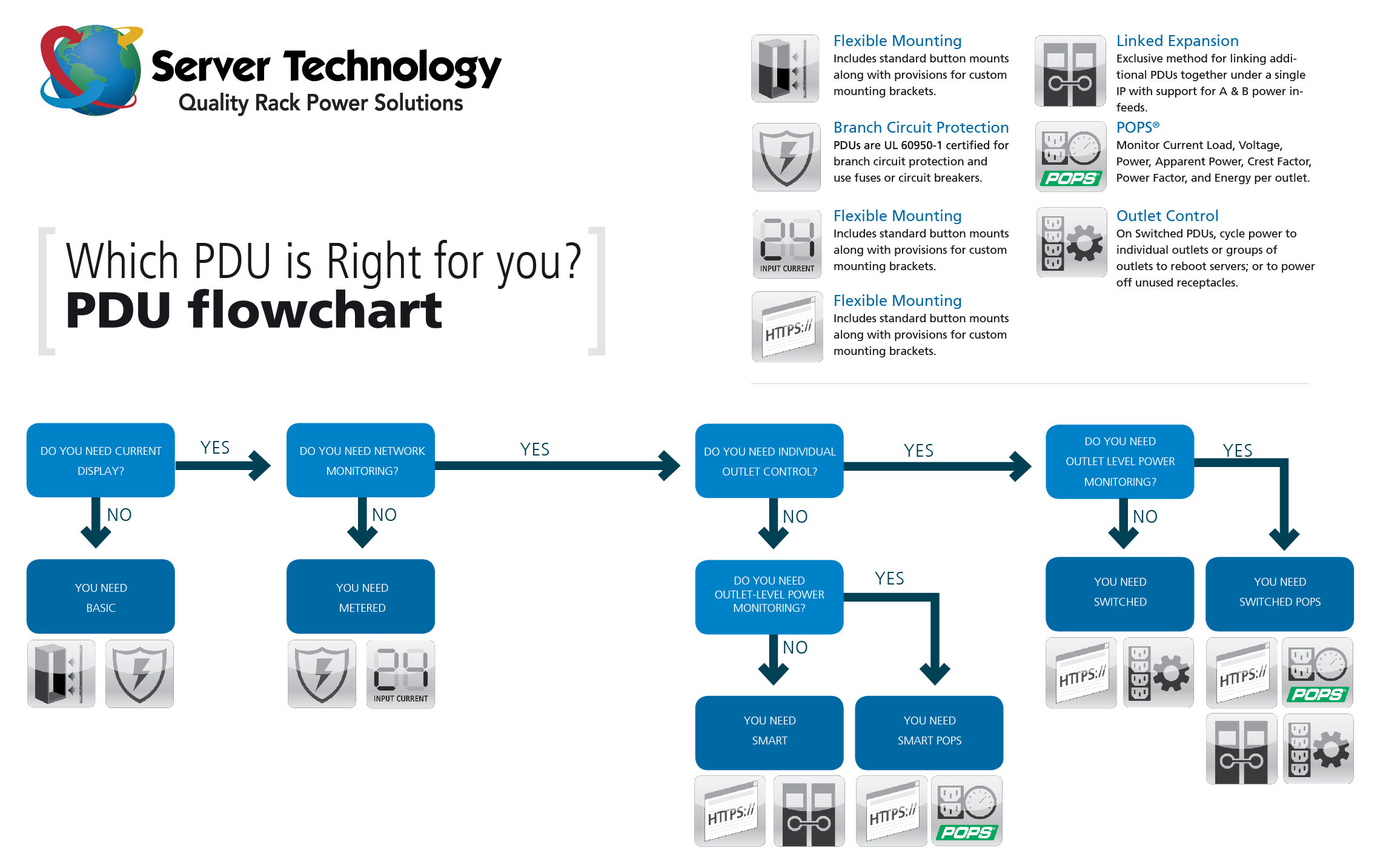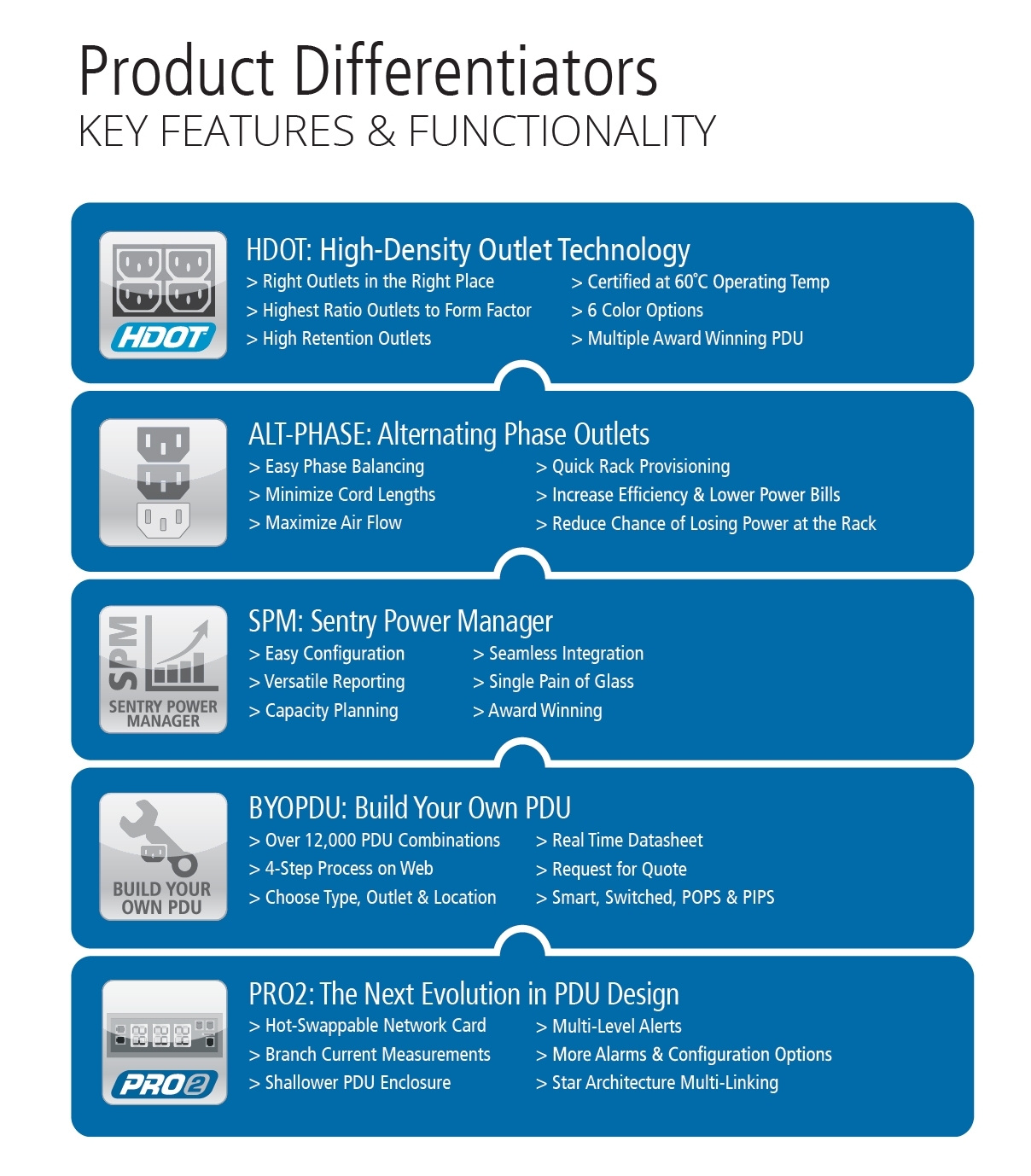 Tools & Features
High Density Outlet Technology (HDOT) : Your Density Solution
Short on real estate, high on rack components? Choose High Density Outlet Technology. HDOT has the most outlets in a 42U intelligent Rack PDU with industry standard C13 and C19 outlets. Comes with high native cord retention and color-coded alternating-phase outputs for easy cabling and operation to 65C (149F) ambient.
Alternating Phase Technology : Your Load Balancing Solution
Choose Alternating Phase. Alternating phase outlets alternate the phased power on a per-outlet basis instead of a per-branch basis. This allows for shorter cords, quicker installation and easier load balancing for 3-phase rackmount PDUs. Shorter cords mean less mass, making them less likely to come unplugged during transport of the assembled rack.
PRO2™ PDU : Your Uptime Solution
The next evolution in PDU design; with a shallower form-factor, faster processing, and more memory. Your Uptime solution.
Sentry Power Manager (SPM) : Your Capacity Solution
Award winning, most comprehensive and affordable rack-level solution for measurement and reporting. Your Capacity Planning solution.
Build Your Own PDU with the Online Configuration Tool : You Want IT, You Got IT
Server Technology's Build Your own PDU online configuration tool takes a Smart or Metered 42-outlet High Density Outlet Technology (HDOT) PDU chassis and allows you to build an HDOT PDU your way in four simple steps. To create a custom PDU visit www.servertech.com/byopdu. Once your submission is complete, you will receive a follow-up to your request for quote within 24-hours or less
55,000+ Client Companies Have Chosen 42U
There's a reason we're the #1 choice of so many IT professionals.
Contact us and experience why.

Questions? Call us.
Call in and speak with one of our knowledgeable solutions engineers who will answer any questions you might have.
1-800-638-2638

One of our data center solutions specialists will work together with you to find the optimal solution for your system.