ServerTech POPs – Per Outlet Power Sensing Rack PDU
The complexity of IT equipment in today's data centers and remote branch office locations requires new solutions for building a solid infrastructure. It must support 24/7 operations and reduce the instance of locked-up or failing equipment leading to network downtime with the ability to measure and monitor the power of the IT equipment throughout the Data Center. Five nines availability — 99.999% uptime — demands it
Blade servers and high density computing power requirements continue to increase, creating heat proliferation and more challenges for managing the IT environment. To maintain their competitive advantage, data center managers need solutions that monitor, track and manage servers and IT equipment and the equipment cabinet infrastructure that houses them.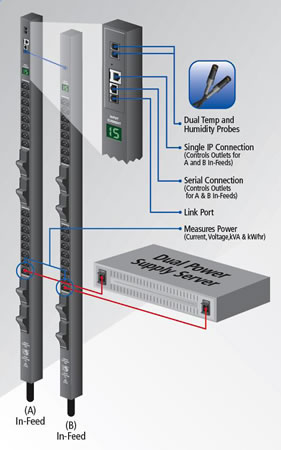 ServerTech Per Outlet Power PDU Application Diagram
Key Features of the ServerTech POPs Outlet-Level Switched CDU
Simple, secure, integral web interface GUI configuration tool.
Temperature and Humidity Support.
Authentication logging, configuration changes and system events.
Secure Syslog protocol support.
Email notifications of log, event, authorization, power and configuration messages.
Automatic Firmware Updates via FTP server.
Strong Password Support and Pre-Login Banner.
Ability to Ping an IP address to see if the device is responding.
Grouping of outlets across multiple CDU's.
SNMP: Traps based on Status, Changes, Load, Temperature and Humidity.
Supports 104 user accounts and 18 simultaneous logins with a dedicated SNMP connection.
Individual Outlet Control, Current Load Monitoring, Power Monitoring, Additional Details.