Cabinet Power Distribution with Branch Circuit Protection, expanded functionality of SNMP-based Input Current Monitoring and Environmental Monitoring, plus more…
The ServerTech Sentry family of Switched cabinet power distribution units (CDU) enables network access for remote power management to reboot servers and network gear individually or as a selected group.  These Rack PDU's enable you to control network access to remote sites and data center equipment with IP-based remote power management.
Sentry Switched CDU products provide the capability to monitor and control cabinet power remotely for a date center or remote branch office. Additional solutions for the data center equipment cabinet can be integrated, including input current monitoring, pass-thru console port access and environmental monitoring.
Reboot a single or dual power server with one command
Receive SNMP alerts when power or environmental conditions exceed thresholds.
Assign specific access rights to designated user groups or individuals.
Only the Switched CDU products provide the flexibility needed for all data centers and remote sites, including power requirements for high-amperage, high voltage, UL 60950-1 Branch Circuit Protection and SNMP traps including current monitoring.
ServerTech Switched PDU Web Interface Screen Shot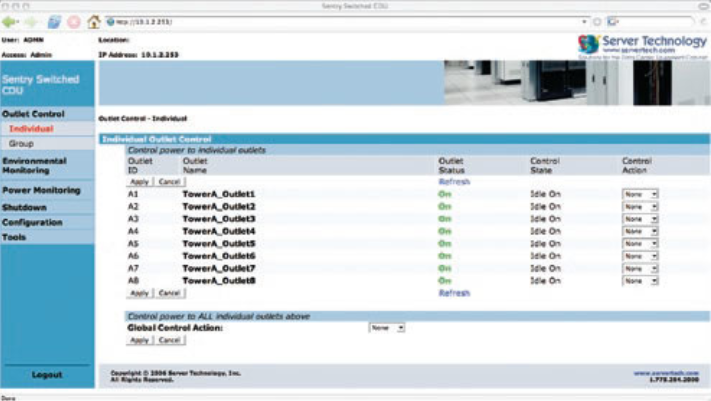 Sentry Smart Load Shedding
Load Management based on Temperature, In-feed Load, and UPS Status
Server Technology is the first to offer datacenter managers the ability to automatically manage Switched CDU power outlets based on key operating parameters, including temperature, in-feed load, and UPS power status. Each outlet may be controlled by one or more of these parameters. Should the temperature or load current exceed defined thresholds or the UPS lose power and go onto battery, all or a portion of the loads may be automatically shed to ensure longer operational life of your critical devices.
Easy to use, integral, web based GUI configuration tool
"Auto-recovery" with reboot delay timer and sequencing for when conditions return to normal
Each CDU outlet is assigned the IP address of the connected device for shut down notification
Remote shutdown agent for server shut down
SNMP trap notifications
Load shedding event notifications via SNMP traps or Email alerts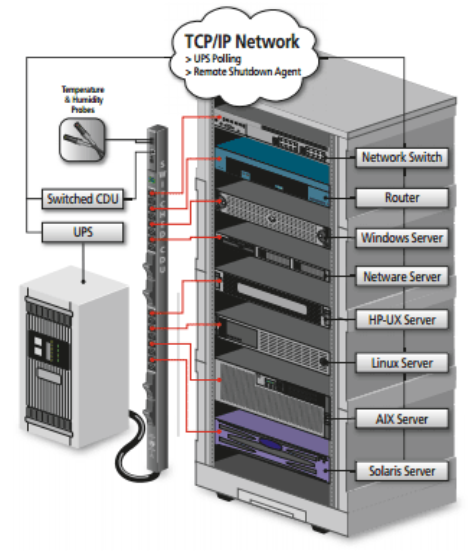 Linkable Expansion Module
The Expansion Module CDU CX is ServerTech's method for linking outlets on different power circuits together. A CX links to any Switched CDU, increasing the number of managed outlets on a single IP address. Control individual outlets on either the Switched CDU or CX expansion module, or control grouped outlets between the Switched CDU and CX with one command.
Each CX links to a Switched CDU, which contains both network and serial interfaces.  When linked to a Switched CDU, the CX's outlets are auto-discovered by the Switched CDU's firmware, and all available outlets are viewable and controllable through the firmware.  Each Expansion Module CDU can be a single-power feed horizontal enclosure or a single or dual-power feed zero-U enclosure.
ServerTech Switched PDU Expansion Example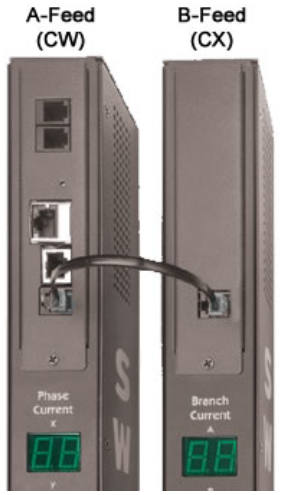 Sentry Switch CDU Features and Benefits:
Key Features:
Easy to use secure, integral, web based GUI configuration tool
Temperature Support (Celsius or Fahrenheit)
Logging of all authentications, configuration changes and system events
SYSLOG logging protocol support
Email notifications for multiple users of log, event, authorization, power and configuration messages
Automatic Firmware Updates via FTP server
Strong Password Support and Pre-Login Banner
Available Power Information
Input Feed Voltage (VAC)
Input Feed Watts (W)
System total Watts (W)
System footprint (sq. ft.)
System watts per square foot (W per Sq. ft.)
Communication Tools
Web interface, SSH, Telnet, SNMPv2c & v3, RS-232 serial, 10/100 Base T-Ethernet, SSLv3/ TLSv1, LDAP(S), TACACS+, RADIUS, DHCP, SMTP/email, & Syslog
55,000+ Client Companies Have Chosen 42U
There's a reason we're the #1 choice of so many IT professionals.

Questions? Call us.
Call in and speak with one of our knowledgeable solutions engineers who will answer any questions you might have.
1-800-638-2638
One of our data center solutions specialists will work together with you to find the optimal solution for your system.