Whether you're operating a hundred ticket kiosks in an airport or a few servers at your small business, downtime costs money. It can result in lost advertising, frustrated customers, lost transactions, missed opportunities, and idle personnel.
1. Reboot
Remote reboot of any device, routers, servers, kiosks, etc. The device to be rebooted need not be network attached.
2. Security
Secure sensitive devices by keeping them powered off when not in use. This prevents hackers from detecting them at all times.
3. Energy Savings
Power down equipment when not needed for power savings and to save on wear and tear.
4. Notification
Power up alert devices like sirens, lamps, messages.
5. Control
Power up an environmental system like heaters, coolers, pumps, etc
In today's home office and remote branch office sites, remote power control is becoming more and more popular. Products like the DataProbe iBoot offer the ability to remotely control power over the internet to one or more outlets. With secure password protected access, IT professionals can perform a remote reboot of hung systems, control on-off power cycles, and in some cases, employ automatic reboot functionality to restart systems in the event of a power failure.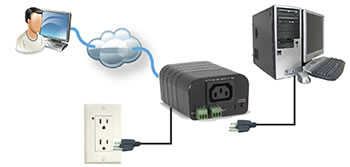 Besides being great for home offices, remote power switches are finding a valued place controlling the power to vending machines, ATM systems, information kiosks, digital signage systems, and even remotely controlling power for security and alarm systems. The remote power switch is an excellent way to reduce downtime, outages, and losses from unexpected power failures and ensure remote IT equipment is available for customer use.
---
Don't risk your bottom line when you can simply set iBoot® to the clock and calendar, or reboot at the click of a button.
Downtime is costly. iBoot® reduces tech support calls and gets your devices back up and running quickly. It can also automatically power devices up and down when you need them, saving energy costs and cutting wear and tear.

---
Features and Benefits:
Learn more about two of the most popular models by viewing listings for Dataprobe DC Power Remote Reboot via Remote IP Web Browser and the iBoot-IO Single-Outlet, Contact Closure and Logic Level Remote Power Control.
iBoot® is a Registered Trademark of Dataprobe Inc. All rights Reserved.