Cooling Solutions for Computer Room Air Conditioning
Computer Room Air Conditioners, CRAC & CRAH
Computer Room Air Conditioners/Air Handlers are a staple of data center design, providing precise temperature and humidity control for mission critical environments. Engineered for 24x7x365 operation, CRACs provide recurrent heat exchange: accepting the heat energy generated by IT equipment, cooling it, and returning it back to the equipment.
Traditional data center cooling has used CRAC / CRAH units and a raised floor plenum (like below) to distribute chilled air to data center racks.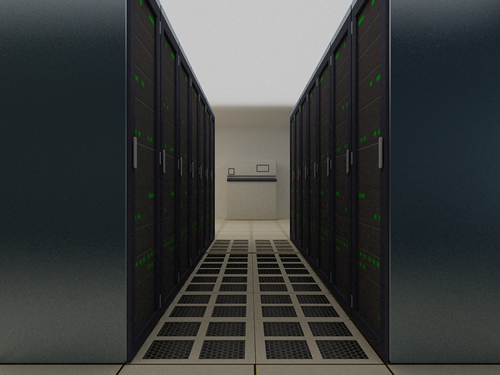 CRAC / CRAH view from Cold Aisle -
Computer Room Air Conditioner & Raised Floor Plenum
CRAC / CRAH - Computer Room Air Conditioning Considerations
Environmental Control
CRACs supply chilled air (measured in cubic feet per minute) within a specific temperature range (the current ASHRAE specification is 64.4 deg F to 80.6 deg F) to satisfy the cooling demands of IT equipment. CRACs have design specifications for supply air, return air, and refrigerant temperature, all of which affect its operation and performance.
Capacity
Capacities for CRAC and CRAH units are typically measured in tons, which can be converted to kilowatts (kW) or British Thermal Units (BTU/hr) depending on user preference
CRAC vs. CRAH
Though they serve the same purpose, there is a fundamental difference between a CRAC and CRAH:
A Computer Room Air Conditioner includes an internal compressor, using the direct expansion of refrigerant to remove heat from the data center.
A Computer Room Air Handler includes only fans and a cooling coil, often using chilled water to remove heat from the data center.
Heat Rejection
Both technologies will require outdoor heat rejection sources. CRAC units are connected to remote condensers, while CRAH units are traditionally connected to chiller systems.
The 42U Advantage
42U partners with leading manufacturers of CRAC/CRAH solutions including Liebert, APC and Stulz Precision Cooling. Our install base ranges from small computer rooms, to enterprise data centers, to high density wiring closets - diverse environments that are decidedly more scalable and efficient than in their previous lives.
These unique environments require equally unique product knowledge and engineering experience. Call 1-800-638-2638 to speak to a solutions engineer.
Top Computer Room Air Conditioning Solutions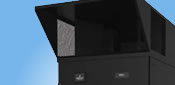 Liebert Challenger ITR
Contact us to find the best CRAC/CRAH solution for your cooling needs.



Our engineers can help you select the best
Computer Room Air Conditioning solution for your data center.
Click here or Call 1-800-638-2638 for a free CRAC project consultation.