Rittal takes a progressive approach to engineering comprehensive and effective solutions with innovative spirit and proven leadership. Rittal products provide the basis for a modular, server rack enclosure technologies.
Experience the high functioning system platform, power distribution, and electrical equipment of Rittal with the assistance of 42U technical experts. Tailoring a server rack to meet the precise needs and requirements of each IT environment could have infinite possibilities, why not optimize the process?
RiMatrix S
RiMatrix S Standard room
The standardized data center is assembled at your premises. The combination of door and roof components provide hot aisle/cold aisle containment and allow consistent separation of hot and cold air.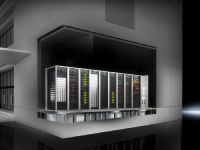 RiMatrix S Standard Security Room
The standardized data center at your premises is equipped with an additional security room feature (room-within-a-room) to provide additional protection from fire, water and smoke.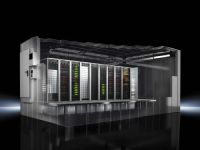 RiMatrix S Standard Container
The standardized data center is offered in a container solution, ready for outdoor application requirements.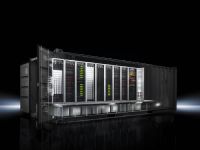 IT Enclosure Systems
TS IT
The new IT platform based on TS 8 for all applications. Intelligent enclosure and accessory system with reduced complexity and assembly friendly plug & play technology. Load capacity up to 1,500 kg.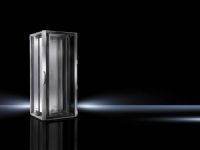 Cable Management Housing for TS IT
For the routing, fastening and storage of cables or as an empty housing in the case of uneven LCP installations.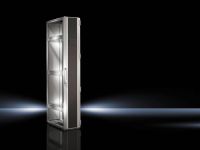 Distributor Racks
Distributor racks for optimum accessibility from all sides during assembly and installation, and unrestricted airflow due to the open design.

IT wall-mounted enclosures
Vertical Box
Compact 19″ enclosure for small networks that may be used for wall-mounted, under-desk or desktop applications.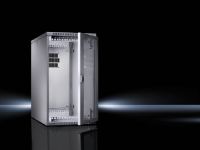 FlatBox
19″ housing that may be disassembled and can be used for wall-mounted or free standing applications.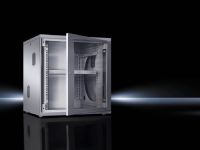 EL Wall-Mounted Housings
Two or three part wall-mounted housing with viewing window. Protection category IP 54 or IP 55.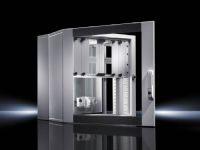 AE Wall-Mounted Housings
Wall-mounted housings for small networks with a high protection category.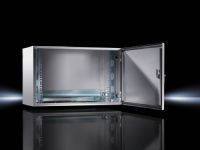 IT Power
Power Distribution Unit, PDU
Intelligent power distribution system – Depending on the version, available with C13/C19 slots or in the UK version with UK slots (BS 1363).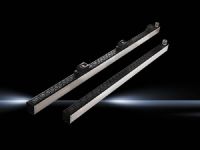 Power System Module, PSM
One or two infeeds, with one or three phases; redundant when the plug-in module's direction of connection is changed. With voltage, current and power consumption measurement, as an option.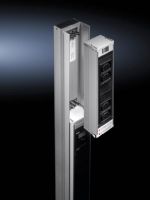 UPS Systems
Rittal Power Modular Concept UPS system for high availability. As a back-up for critical loads, with high UPS efficiency, even in part-load operation.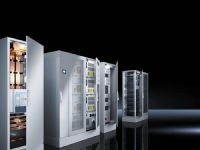 IT Cooling
CW LCP: Extremely high heat loads are dissipated from IT racks via air/water heat exchangers. DX LCP: Ideal for cooling of small and medium-sized IT applications.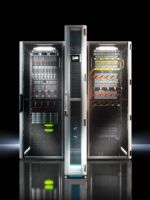 Aisle Containment
Door and roof components separate hot and cold air in the data center. Increases the efficiency of the climate control systems. Can be used as a hot or cold aisle partition.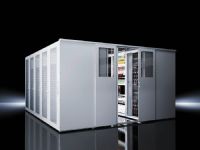 Small Cooling Units
Air Duct for Lateral Air Routing
For Horizontal Air Routing
Roof-Mounted Fans for TS, TS IT, for the Office Sector
Fan Mounting Plates for TS IT, TE
Fan Tray for TS 8
Fan Expansion Kit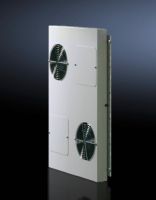 IT Cooling Accessories
Fan Expansion Kit – Supplement kit to allow modularity with our roof mounted fan.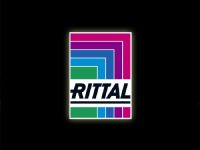 IT Monitoring
CMC III Monitoring System
Modular monitoring system for IT applications, buildings and industrial applications.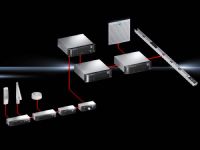 Monitor/Keyboard Unit with 17″ TFT display and VGA/DVI connection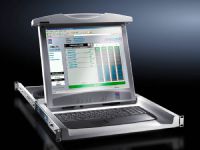 Management Software
RiZone – Software for integrated monitoring of physical IT infrastructure and servers.
RCCMD-Software for CMC III – Client software to control server shutdown via the PMC UPS. Supports Windows 7, VISTA, XP, Server 2003/2008, UNIX/LINUX and VMWARE Sphere/ESX Server, CITRIX XEN etc.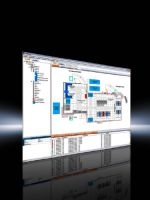 IT security solutions
Security safes available in various models to provide physical protection for one or more server enclosures. By adding various configuration components the safe becomes a fully equipped micro data center.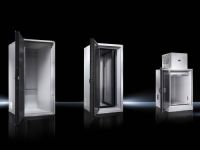 DCC Data Cetner Container
Data Center Container for mobile or temporary use of IT systems which includes an innovative, direct free cooling of up to 20 kW. It saves up to 40% of cooling costs.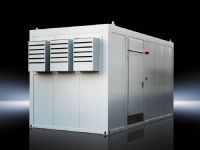 55,000+ Client Companies Have Chosen 42U
There's a reason we're the #1 choice of so many IT professionals.
Contact us and experience why.

Questions? Call us.
Call in and speak with one of our knowledgeable solutions engineers who will answer any questions you might have.
1-800-638-2638

One of our data center solutions specialists will work together with you to find the optimal solution for your system.