Measuring efficiency with SynapSense Sensors can help you reduce computer room operation costs in your computer room by improving energy efficiency and implementing power and cooling best practices.
Total Cost of Ownership. Return on Investment. Operating Costs. It used to be that a data center was measured almost exclusively on uptime. Today, managers are being asked to balance uptime and reliability with these fiscal measurements, while evaluating increasingly complex infrastructure solutions that blur the traditional lines between IT and Facilities.
SynapSense's Wireless Sensor Network of sensor nodes, gateways, routers and server platforms enables computer room facilities and data center managers to baseline their energy utilization, identify improvement opportunities, and validate the implementation of energy saving measures. SynapSense products also allow computer room managers to calculate and validate carbon footprint reductions and improvements, monitor tool utilization to validate capital equipment investments and requirements, proactively manage disaster recovery, and monitor environmental conditions to stay within specified equipment and product warranties.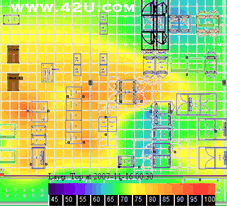 SynapSense SynapSoft 4.0 - Thermal Map
You can't control or manage what you don't measure.
Having a holistic understanding of your computer room or data center's energy consumption is a key first step in being able to determine appropriate steps you could take to improve your energy efficiency. Utilizing SynapSense wireless sensors and SynapSoft software will help you determine PUE and DCiE.

SynapSense offers energy and environmental solutions to save energy costs by 10-20%, to optimize equipment utilization, comprehensively extend instrumentation throughout the enterprise. The SynapSense Wireless Solution uses rapidly deployable, reliable wireless sensor networks and integrated software solutions. Easy and flexible installation provides immediate information to manage and optimize your high performance building, manufacturing facility, or data center.

Visibility into manufacturing, test, and fabrication operations can lead to dramatic improvements in quality and savings via real-time adjustments to processes and equipment. Comprehensive knowledge of operations provides the ability to react quickly to changes in workload, machine utilization, and health.

Connecting previously unreachable elements in the enterprise allows greater control and immediate fine-tuning to processes that were inefficient due to the expense involved in installing wired systems. Not only can measurement and control of this equipment improve energy and process efficiency, but it can directly impact scrapped WIP, line or process shutdowns, and unhappy customers.

Impact of the SynapSense Wireless Technology can be seen in improved bottom- line results and increased efficiency throughout your business. With many areas of the business having extremely high overhead and opportunity costs, an easily deployable and agile management solution will provide dramatic return by improving operational efficiencies and resource utilization while minimizing downtime.
About 42U
42U focuses on providing Facilities and Data Center Managers with objective and trusted independent information on Data Center Power and Data Center Cooling best practices along with KVM over IP and Remote Power lights out management to help them reduce their organization's power consumption. Our Data Center Management website has helped millions of IT professionals globally who search for best practices and technologies to help them make their computer environment more efficient.

This work is licensed under a Creative Commons Attribution-No Derivative Works 3.0 Unported License.