What is Inrow Cooling?
Inrow cooling precisely cools and conditions air in close proximity and is targeted cooling at the banks of server cabinets that fill the data center. They can be installed on the floor or suspended from overhead making them closer to the actual rack. This setup offers both capacity and efficiency gains. Neither cool air nor warm exhaust air has far to travel, allowing the units to dissipate high heat loads quicker and allows a more scalable approach to cooling your data center.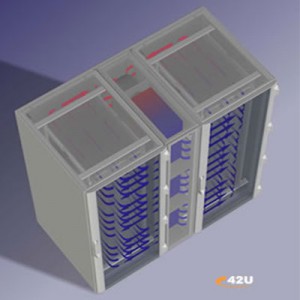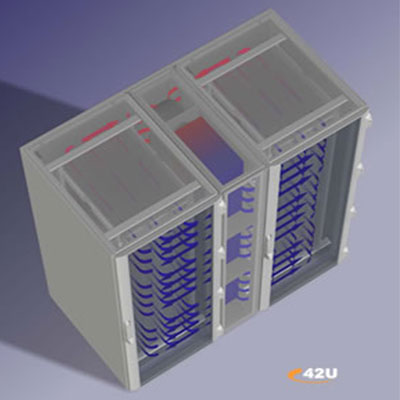 Types of Inrow Cooling:
Floor Mount
The floor mount, inrow air conditioner couples the functionality of a perimeter CRAC (computer room air conditioner) unit with a significantly smaller footprint. These products are embedded in rows of data center cabinets, supporting a conventional hot aisle/cold aisle layout.
Overhead
Overhead units have a unique value proposition. Suspended from the ceiling or housed on top of a cabinet, these units conserve valuable floor space, leaving more room for servers, storage, and switches. Overhead systems allow cooling-strapped data centers to add capacities without new construction.
Cooling Medium
Whether floor mounted or overhead, inrow cooling solutions consist of fans and a cooling coil. Depending on the product, the cooling coil will utilize chilled water or refrigerant as the cooling medium. In the case of refrigerant based units, they require a connection to a remote condenser system; while chilled water based units traditionally connect to chiller systems.
---
In-Row Cooling Solutions from Our Top Vendors
We can provide solutions form the industries top in-row cooling system manufacturers including APC, Liebert, Rittal and more.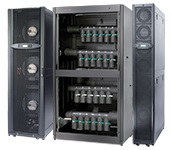 InRow Chilled Water – Close-coupled, chilled water cooling for medium to large data centers up to 70kW
InRow Direct Expansion – Close-coupled, air, water, and glycol cooling for closets, server rooms, and data centers up to 37kW
InRow Pumped Refrigerant – Close-coupled, pumped refrigerant cooling for medium to large data centers up to 27kW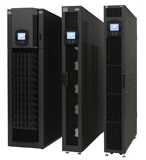 Liebert CRV – Self-Contained Row-Based Cooling up to 40kW
Liebert Challenger 3000 with Liebert iCOM – Precision Cooling System, 10.5 and 17.5kW
Liebert Mini-Mate2 – Ceiling-Mounted Precision Cooling System, 3.5-28kW
Liebert Datamate Precision Cooling System in a compact package, 5-10.5kW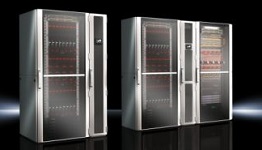 LCP Rack CW – High density, closed-loop chilled water system for scalable cooling up to 60kW
LCP Inline CW – Bayed climate control designed for siting within a bayed enclosure suite for scalable cooling up to 60kW
LCP T3+ CW – Dual feed cooling solution supporting "2n" redundancy in a single device for cooling up to 25kW
LCP Inline DX – Direct Expansion using refrigerant for applications without access to chilled water for cooling up to 10kW