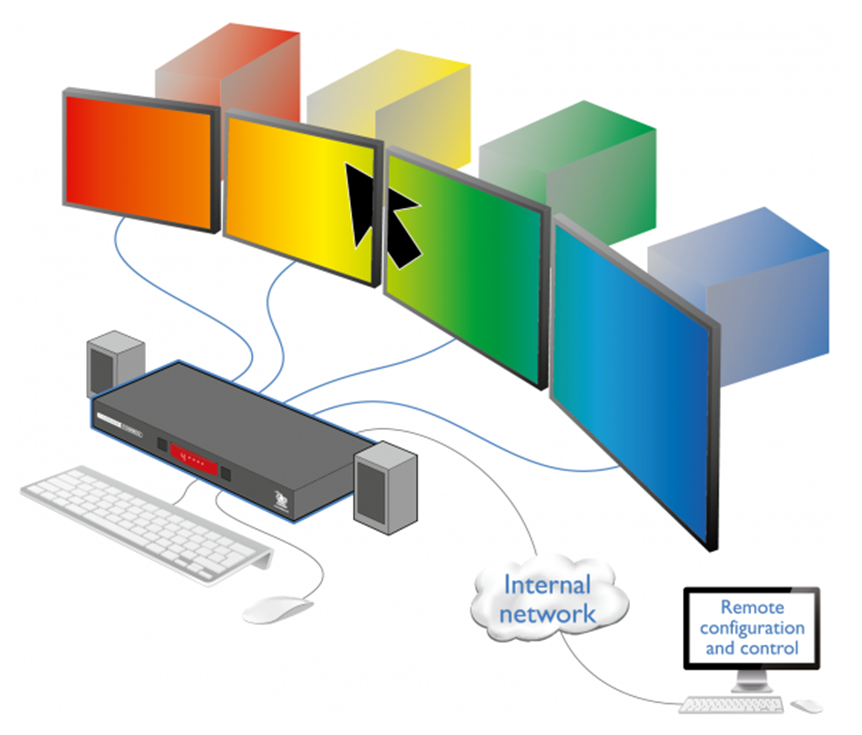 Perfect For:
A KVM (Keyboard-Video-Mouse) Switch is great for a user hoping to access multiple different systems from their console (monitor, keyboard and mouse), or a user hoping to access all of their systems remotely, but what do you use if you have multiple systems that you want to monitor and control at the same time? That is where a KM (Keyboard-Mouse) switch comes in handy!
Control Rooms and Command Centers
Dispatch and 911 Call Centers
Security Desks with Multiple Video Feeds
Editing Bays and Broadcast Environments
---
Increase productivity while cleaning up keyboard and mouse sprawl across the desk.
---
This is the 3rd generation KB/M switch from Adder, the first being a PS/2 keyboard and mouse switch and the second being the CCS4-USB with Adder's Free Flow, True USB Emulation and independent USB port selection.  Free Flow is Adder's automatic switching feature which occurs as you drag your mouse from one monitor border to the other.  True USB Emulation provides a greater level of support for advanced keyboard and mouse models.  Independent USB port selection allows you to have keyboard mouse control of one system while your other USB devices can be connected and interacting with another.  This latest version responds to customer feedback adding dual power feed for redundancy and an RS232 external control option for integration into 3rd party systems.