We asked our partner Bill Kennedy at Stulz-ATS/Engineered Mechanical Systems:
When does a data center need humidification?
What to consider?
How accurate are room level humidity thermostats?
As we all know, each strategy for designing a controlled environment is unique to fit the needs of the space and the goals of the task. Identifying each puzzle piece to complete the most effective and efficient workflow system may seem daunting. Data center humidification is serious because moisture can be generated anywhere and can be hard to spot or clean after it has occurred. Prevention is the key.
Normally some type of study needs to be performed to take into account for items, such as:

Vapor Barriers & Wall Construction
Adjacent Space Use
Design Indoor & Outdoor Temperatures

Identifying all the needs and goals along with surveying the area will help develop a few best-fit equipment and options. Our expert, Bill Kennedy, goes on to describe environment considerations when Outside Air (OSA) is or is not involved:
If OSA is being introduced into the space, the type of equipment and heat generation within the space should also be considered.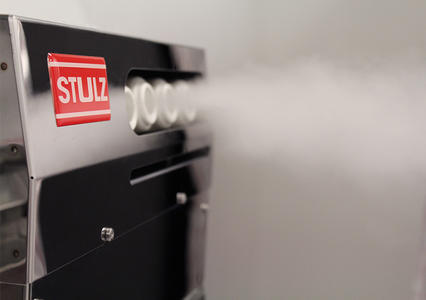 A large consideration for the dehumidification process is the operation of a CRAC unit. Since a CRAC can help dehumidify while cooling, this piece of the strategy puzzle can help better compare total load versus sensible load.
"Sensibile" = senses temperature
"Latent" = converts states of matter, like changing the water dew in the air into vapor
"Total" = sensible + latent capacities
If an OSA is not being introduced, and instead just doing 100% recycled air with the existing CRACs only doing sensible cooling, then the humidification load is really determined by the amount of moisture loss through the perimeter walls (normally in the winter) due to:

The Vapor Barrier or Wall Conditions,
Adjoint Space Conditions, or
The Design: Winter OSA Conditions vs The Design: Data Center Conditions.
Quick & Reliable Solution: Leveraging Humidistats
The humidistats in the room can be a reliable for accurate humidity measurements. Normally one humidistat is provided for a room, but when up to three humidistats are used, the averaging board can be even more accurate.
Placing one humidistat sensor in the center of the area have shown to improve the environment's ability to maintain a more stable humidity measurement. To best monitor and manage a room's humidity, installing at least three humidistats, equally spaced throughout the space and averaging them, is recommended.