The amount of energy used to maintain acceptable temperatures in the data center can be greatly reduced by containment. Data center containment is the separation of cold supply airflow from hot air coming out of equipment exhaust. By separating the air, you are able to save revenue by reducing your energy consumption, and improve overall equipment performance and efficiency.
Containment Solutions Include:
In order to determine which data center containment strategy is right for your data center or server room, you must look at the layout of the room, budget, and long-term goals. At 42U, we can help you determine which solution will fit your needs and go over each option in more detail.As part of your overall data center cooling strategy, you may also want to consider various
airflow management
infrastructure and
power distribution
strategies.
---
Cold Aisle Containment
The Cold Aisle Containment (CAC) approach encloses the cold aisle with ceiling panels above the aisle between adjoining racks and with doors at the end of the aisle. This allows the cold air from the perforated floor tiles in front of the cabinets to be contained and delivered to the server equipment air inlets. The CAC prevents cold air from mixing with warm air or being obstructed by surrounding equipment/sources before it reaches the servers. Because CAC possesses this ability, it is called focused cooling.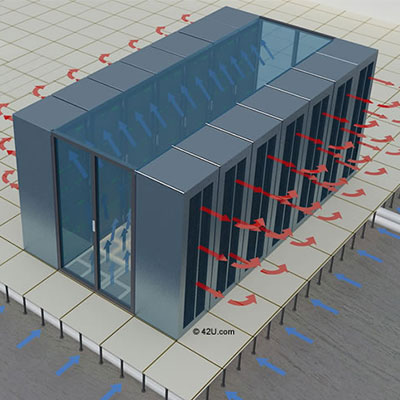 Considerations
Hot Aisle Containment
In its simplest form, Hot Aisle Containment (HAC) consists of a barrier that guides hot aisle exhaust airflow upward back to the CRAC (computer room air conditioner) return. This method keeps hot exhaust air emitted from server racks separated. Keep in mind though, while HAC improves energy efficiency compared to no HAC; it can add cooling (and power) load because of larger fans to overcome additional pressure drops.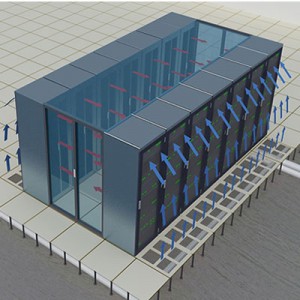 Considerations
Chimney Systems
A chimney system consists of a solid metal chimney that extends from the top rear of the IT racks. The hot air is pushed through the chimney up to the ceiling return air plenum. This type of system is highly compatible with most data centers due to the fact that it can be installed on an already existing enclosure. They can be installed not only on an individual cabinet but also on a system which can span several cabinets.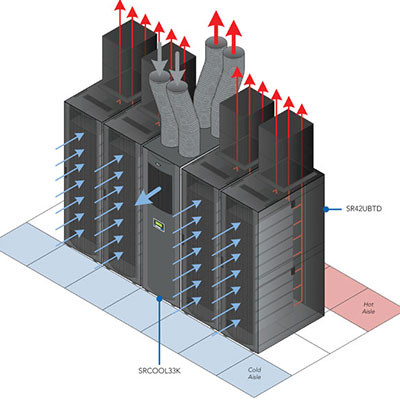 Types
Curtain Systems
Data center curtains are an economical energy saving solution often utilizing curtain materials that have been around for a long time in clean rooms. Combining the curtains with an aluminum track system allows you to attach the data center curtains to the drop ceiling and to the tops of the racks.More intelligently designed aisle containment curtains utilize UL listed fuse links. These melt at a temperature that is below the temperature at which your fire suppression system would be activated – 135 degrees is the melt point for them to drop away. This allows the curtains to drop to the floor before the temperature would be sufficient to trigger a data center fire suppression system.
Cold aisle/hot aisle containment curtains are available in flexible strip and soft wall panel formats that can be customized to meet the specific requirements of any facility.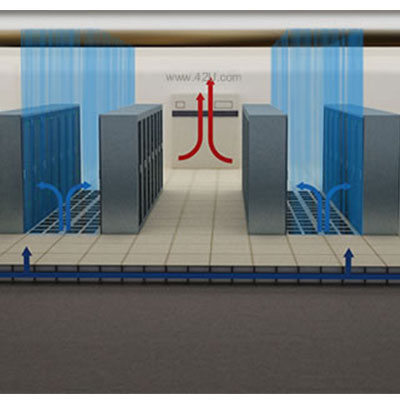 Considerations
Hard Panel Systems
Hard panel systems work with both cold or hot aisle containment applications and are pre-assembled for easy installation. This unique hard panel roof fully segregates hot and cold air, improving the cooling capacity of any data center. It attaches to the top of the rack, fully supported by the racks, and lies flat to avoid interference with other overhead obstructions and extrusions. Should a fire occur, the roof panels drop away to allow an overhead suppression system to work within the aisle.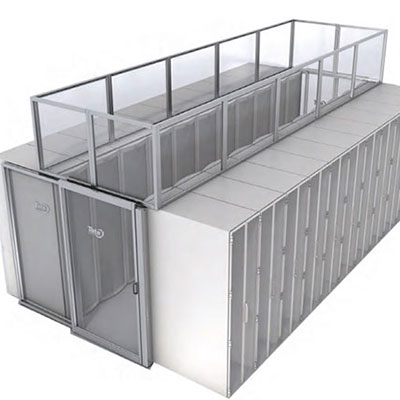 Read More Containment Considerations
Modular Systems
AisleLok Modular Containment is an off-the-shelf, out-of-the-box containment solution that can be self-installed in minutes. This innovative solution is the first of its kind in the industry, and provides data center managers an alternative to the complex traditional containment systems.AisleLok Modular Containment was developed to help data center managers achieve similar results to traditional containment (i.e. improved inlet temperatures), without all the complexities of measuring, designing, and installing. The unique design of the AisleLok modular aisle containment system attaches to the racks magnetically, creating a truly tool-less design that can be moved, reconfigured, and reused as many times as needed.
The two main components of the AisleLok Modular Containment are the Rack Top Baffle and the Bi-Directional Doors, with an optional row gap filler. The Rack Top Baffle can be purchased in either a 30° angle from horizontal position (best for cold aisle containment), or in a vertical 90° angle from horizontal position (best for hot aisle containment). Both components attach directly to the racks. The open-sealing design ensures fire safety with an elegant appearance that brings professional aesthetics to your server room.
Unique Design Allows for Easy Installation
Get the benefits of traditional containment with greater flexibility and lower cost
Core Benefits
Allows for higher rack densities.
Enables lower inlet temperatures and reduced energy costs.
Lower initial cost and lower total cost of ownership than full containment.
Affordable to implement across multiple aisles.
Easy installation – can be self-installed in minutes with no construction.
Modular and flexible – can be reconfigured quickly and easily and applied to both hot and cold aisles.
Easy to order with no custom measuring required.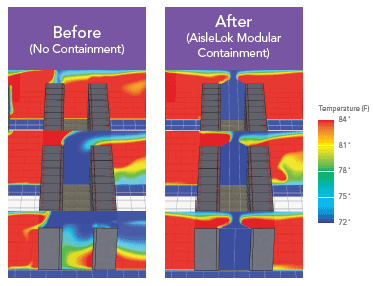 Considerations
This system is only effective for 12kW per rack loads and lower when using as cold aisle containment.
Read More about Containment Strategies
Aisle End Doors
Closing the end of the aisles with a functional door system can not only optimize the design and operation of your data center, but it can also improve the efficiency. Aisle end doors are great for hot aisle/cold aisle containment applications, adapt to fit to existing racks, and can be configured to fit any site needs.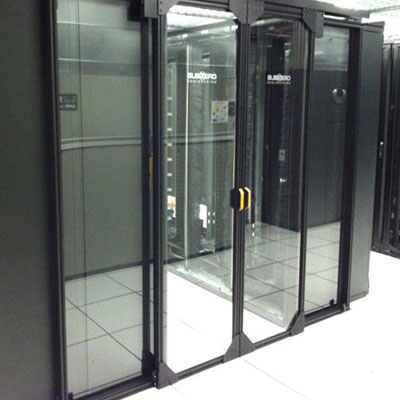 Considerations
Read More about Aisle End Doors
Inrow Cooling
Inrow cooling precisely cools and conditions air in close proximity and is targeted cooling at the rows of server cabinets that fill the data center. They can be installed on the floor or suspended from overhead making them closer to the actual rack. This setup offers both capacity and efficiency gains.Cooling Medium
Whether floor mounted or overhead, inrow cooling solutions consist of fans and a cooling coil. Depending on the product, the cooling coil will utilize chilled water or refrigerant as the cooling medium. In the case of refrigerant based units, they require a connection to a remote condenser system; while chilled water based units traditionally connect to chiller systems.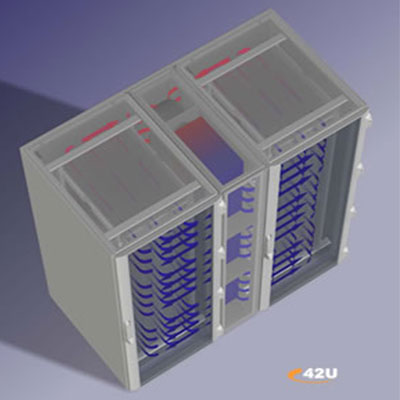 Types