When looking to tidy up the data center, you'll want to save space and promote efficiency. You'll quickly find yourself choosing between converged or hyperconverged infrastructure, but keep in mind your objective is to find a tool that works for you, not the other way around. First, let's define the difference between these setups:
Converged infrastructure – in most cases, converged infrastructure seeks to collapse compute, storage, and networking into a single SKU and provide a unified management layer.
Hyperconverged infrastructure – seeks to do the same, but adds more value by throwing in software-defined storage and doesn't place much emphasis on networking. The focus is on data control and management. 
Pain points both Convergence and Hyperconvergence help solve:
Centralized Gateway to the Entire IT Infrastructure (great for large data centers and sites with multiple physical locations).

Centralized Authentication, Authorization, & Logging

VMware Virtualization

Hardened Security Appliance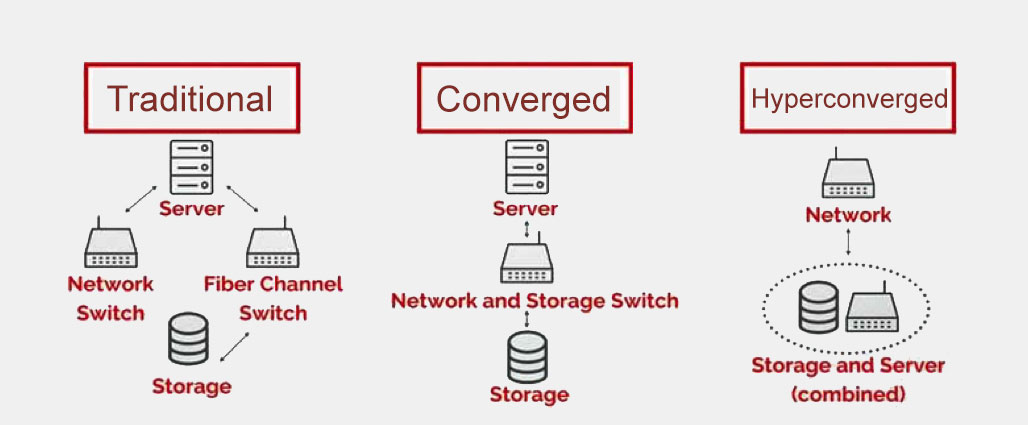 Converged infrastructure
This setup is usually implemented in large data centers. 
Traditionally computing, storage, and networking are separate components. To reduce deployment time and operational costs, these components are concentrated into a rack-level solution so that each part will function in tandem within a tight and efficient space. 
Grow As Needed
Growth is achieved by adding more components to the racks or adding additional racks to the lineup. 
Each component will have its own warranty and support managed separately. Suppose computing, storage, or networking needs additional resources. In that case, they can be added to independently as needed since any component can be added to a given rack, so long as there is space. 
Scale with the Best of the Market
With each component being its own addition, it will be easier to find greater value at a cheaper price point. It will also be easier and cheaper to replace these components as upgrades and replacements are needed. 
In short converged solutions are flexible to your needs, more market savvy, and will allow you to adapt your solution to your needs as they grow and change over time. Great for large data centers or those with unique needs or tighter budgets. 
Hyperconverged Infrastructure
The hyperconverged systems are managed via "a single pane of glass" containing different PDU silos and serial or KVM switches. They bring together storage, compute, networking, and management with their software solution. This is very similar to Raritan Command Center Secure Gateway or Vertiv's DSView software system. 
For example, the Raritan Command Center Secure Gateway can manage all of your data center servers connected to their KVMs, Serial Consoles, Service Processors, and PDUs in a centralized, secure, single pane glass method.
So, instead of having a set of applications and separate teams to manage the storage array, virtualization, and server hardware, a hyper-converged environment has one team (or, in some settings, one person) to manage the complete hyper-converged stack.
Simplicity & Flexibility
Hyper-convergence infrastructure focuses on VM mobility, high availability, data efficiency, and cost-efficiency. Providing for what your environment needs, whether it's a platform controller or color-coded blinking lights, it is essential to look at the manufacturing process along with the business model of the products; especially, since there is a rapid expansion of suppliers and not all equipment is cross-compatible.
It is easier to select, implement, and install a hyperconvergent system, and everything is held in one unit. Growth is more manageable though more expensive. You can only add additional units in line with your original purchase to your network solution, even if you only need to improve a single component. Support is more accessible as well since everything is managed through a single point of contact. 
In short, hyperconverged solutions are straightforward and simpler to manage while being faster to implement. However, they are ultimately a fixed solution that won't adapt over time. Great for edge solutions and those in need of quick or uniform deployment. 
Careful selection is needed for these choices, and we can help you through all the details when finding what works in your data center. Contact us and let us help you with your IT infrastructure. 
Further Reading:
Convergence
https://www.netapp.com/us/info/what-is-converged-infrastructure.aspx
https://www.hpe.com/us/en/what-is/converged-infrastructure.html
Hyperconergence
https://www.nutanix.com/hyperconverged-infrastructure
https://www.vmware.com/products/hyper-converged-infrastructure.html
https://www.infoworld.com/article/3125009/how-hyperconvergence-enables-it-flexibility.html