This is a Rackmount Monitor Deal You Don't Want to miss!
This Avocent LCD display provides simplicity, efficiency, and ease of use to make it perfect for the rack access point for your data center, server room, or computer closet. The Avocent LRA Console combines the efficiency in power and space consumption needed for an emergency access solution with the convenience and user experience of a workstation solution. When connected to a KVM Switch, the Avocent LRA185KMM  enables ease of access to multiple servers making software upgrades, troubleshooting, and system monitoring convenient and less time-consuming.
The Avocent LRA Console tray provides field-proven access within the data center allowing data center operators immediate access to the server, network switches, and other IT gear from inside the data center with no need for crash carts or other cumbersome equipment. The tray features standard USB and VGA interfaces providing compatibility to a vast number of servers and devices natively. It is compatible with all recent Avocent¨ data center KVM solutions and can easily be used in conjunction with many of the market-leading Avocent¨ access technologies.
This model is currently at an all-time low price but act quickly. Discounted pricing ends July 31st, 2021.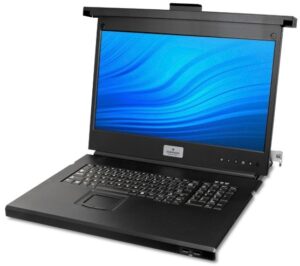 Large Screen: 16×9 18.5″ with variable resolutions for optimal performance
Form Factor: Trays are easy to access, yet lock securely in and only 1U preserving rack space
KVM Compatibility: LRA Consoles are compatible with all Avocent¨ data center KVM switches
On-Screen Display: Easy-to-use intuitive design in multiple languages
Provides conventional access and control in the data center for emergencies as well as extended use
Ease of use: Convenient, full 103-keys keyboard with full number pad
Environmentally responsible: Low power usage during operation and standby
Global availability: Certifications and keyboard language support
Dual USB 2.0 pass-thru for faster data transmission
TAA Compliant 
Available in PS/2 or USB keyboard
Keyboard available in 11 languages
Call 1-800-638-2638 toll-free, for availability or to order directly

This Rackmount LCD comes with three options.
1. A simple and powerful rackmount monitor currently 38% off. LRA185KMM-G01
2. The same rackmount monitor with an 8 port single user, KVM built-in as well. Currently, you can purchase a model for 36% off. LRA185KMM8D-G01
3. The same machine but with a  16 port, dual user KVM built-in. This powerful machine is currently 36% off and a great way to upgrade your rack.  LRA185KMM16D-G01
(navigate through your options via the Integrated KVM Switch option on KVMSwitchesOnline. )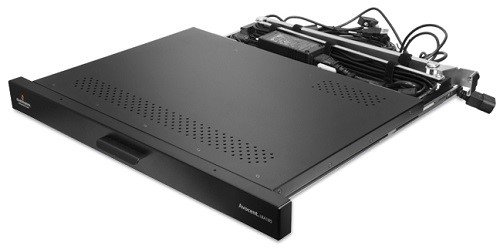 If you are looking for a great rackmount monitor, you need to act now, case closed.