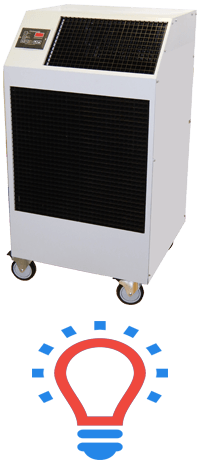 Same Performance
in a Smaller Cabinet!
SMALLER…..12 inches less in depth foot print
LIGHTER….70 lbs lighter
Protected Internal Water Connections
Uses Same Accessories as the 5-ton Air Cooled A/C
Features
Rear Handles and Kickplate for mobility
Power Cord Storage
High Pressure Reset Switch
Recessed Water Connections
Built-In Condensate Pump with 20 ft lift

Portable Air Conditioner Solutions for IT, Telecoms and Data Centers
Electronic equipment runs hot and quickly produces an excess of hot air which can be harmful to sensitive electronic components. Maintaining a cool temperature is vital to prevent equipment from automatically shutting down due to overheating. OceanAire portable air conditioners come with heavy duty casters to allow for mobility. They can be easily wheeled into place to cool any room in minutes, and can also be effortlessly stored.
OceanAire portable A/C units are renowned for providing quiet and efficient cooling in data centers. Our team has extensive experience in building precision portable air conditioner units and our entire range of products is built in the USA to provide many years of dependable service.
Back to 42U vendor page
PAC series Portable Air-Cooled Spot Cooler
The Oceanaire PWC series are portable water-cooled air conditioner designed for permanent or temporary spot cooling applications. The entire air conditioning unit has been built in an attractive sheet metal cabinet, equipped with heavy-duty casters for mobility. All PWC models come with a 10-foot power cord for electrical connection and added mobility in service.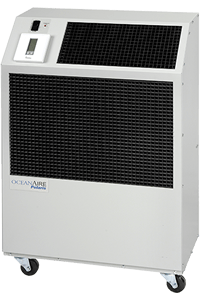 PWC Standard Features
High efficiency compressors
Electronic temperature control
20′ lift condensate pump
Condensate check valve/safety switch
Dry, insulated base pan
High efficiency condenser coil
Water reg. valve controls water flow
Pitched drain pan (ASHRAE 62-89)
Manual reset hi pressure switch
Low pressure drop through water circuit
Compact size
2-speed evap blower
10 foot power supply cord
Rifled tube enhanced fin evap coil
Washable Electrostatic air filters
Heavy duty casters
UL Listed
Made in U.S.A.