OceanAire's water cooled portable air conditioner units offer an extremely efficient and effective way to control the climate in any sized room. Because water cooled air conditioners do not discharge large amounts of heat, they do not require exhaust ducting and are used to great effect in enclosed areas.
How Do Water Cooled Portable Air Conditioning Units Work?
Portable air conditioner units that are water cooled simply require access to an appropriate power source, a source of water and a drain. Our units come equipped with hoses which will connect to any standard sink, but can also be used in janitor sinks or used with any other type of waste water outlet.
There are many applications where a standard air cooled air conditioner cannot be used. Because they require ventilation to discharge the heat that they generate, ducts must be run through windows or into floated ceilings or other appropriate outlets, like a warehouse or other large spaces. This makes water cooled air conditioners far more versatile than air cooled portable air conditioners.

Back to 42U vendor page
PAC series Portable Air-Cooled Spot Cooler
The Oceanaire PWC series are portable water-cooled air conditioner designed for permanent or temporary spot cooling applications. The entire air conditioning unit has been built in an attractive sheet metal cabinet, equipped with heavy-duty casters for mobility. All PWC models come with a 10-foot power cord for electrical connection and added mobility in service.
Just released New Redesign 5-ton PWC series. Same performance in a smaller cabinet!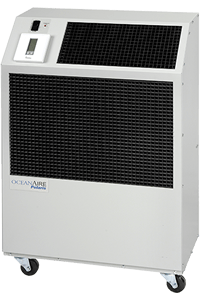 PWC Standard Features
High efficiency compressors
Electronic temperature control
20′ lift condensate pump
Condensate check valve/safety switch
Dry, insulated base pan
High efficiency condenser coil
Water reg. valve controls water flow
Pitched drain pan (ASHRAE 62-89)
Manual reset hi pressure switch
Low pressure drop through water circuit
Compact size
2-speed evap blower
10 foot power supply cord
Rifled tube enhanced fin evap coil
Washable Electrostatic air filters
Heavy duty casters
UL Listed
Made in U.S.A.
OWC Series Deluxe Water-Cooled Spot Cooler
All OWC models come with a 10-foot power cord for electrical connection and added mobility in service. These spot-coolers are designed to direct air to specific areas or objects through a discharge grill located on the upper-front of the unit, while rejecting heat from the top of the unit. The OWC models range in cooling capacities from 12,000 BTU/HR to 60,050 BTU/HR to satisfy most space cooling requirements.
The OWC is a self-contained unit with the entire cooling system, fan motors and water-side components neatly arranged in a gray polyester powder coated metal cabinet. When connected to the proper source of electrical power, the digital thermostat controls the OWC unit to provide the desired level of comfort and cooling.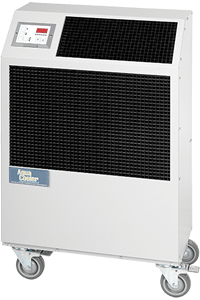 OWC Standard Features
High efficiency compressors
Regulating valve controls water flow
Hour meter records operating time
6-speed automatic blower control
Low set point to 55°F
High efficiency condenser coil
Rifled tube enhanced fin evap coil
Moisture Control Mode for high humidity
Washable air filter
Schrader valves for service & testing
Can remote mount themostat
10 foot power supply cord
High pressure safety switch (man reset)
Pitched drain pan (ASHRAE 62-89)
Deluxe Heavy-Duty Casters
Available in 230/3, 460/3, 575/3
Compact size
U.L. Listed for safety
Made in U.S.A.