Intelligent, integrated data c​enter solutions optimize infrastructure efficiency and capacity. Liebert products, solutions and services from Emerson Network Power optimize data center infrastructure through cooling and monitoring technologies.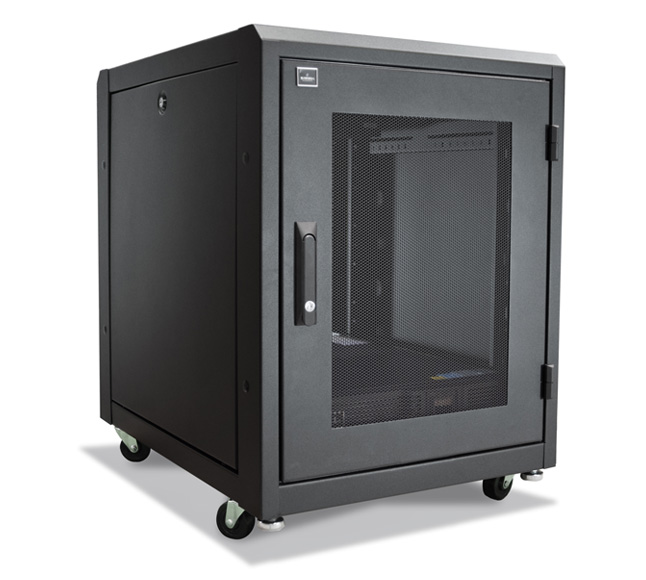 SmartCabinet™ for Branches
The Emerson SmartCabinet™ for Branches is a turn-key solution that contains all supporting infrastructure needed to properly deploy IT at the branch.
The SmartCabinet offers power protection and conditioning, infrastructure management and monitoring, remote monitoring and analytical service all in one integrated solution. The SmartCabinet is the simple solution to your branch IT needs.
Standard Branch IT Configurations
Tailored to the application
Factory integrated, validated, and tested
High Availability
Most extensive emergency service coverage in North America
Network independent remote management
Secure Physical and Remote Access
Prevent on-site intrusions
User rights-driven remote access
Real-Time Management of Branch Equipment
IT access and control
Remote Monitoring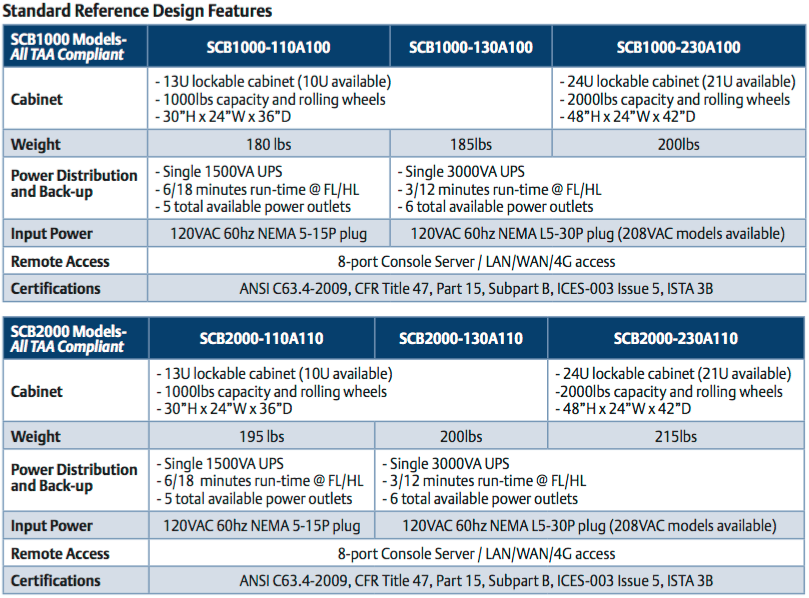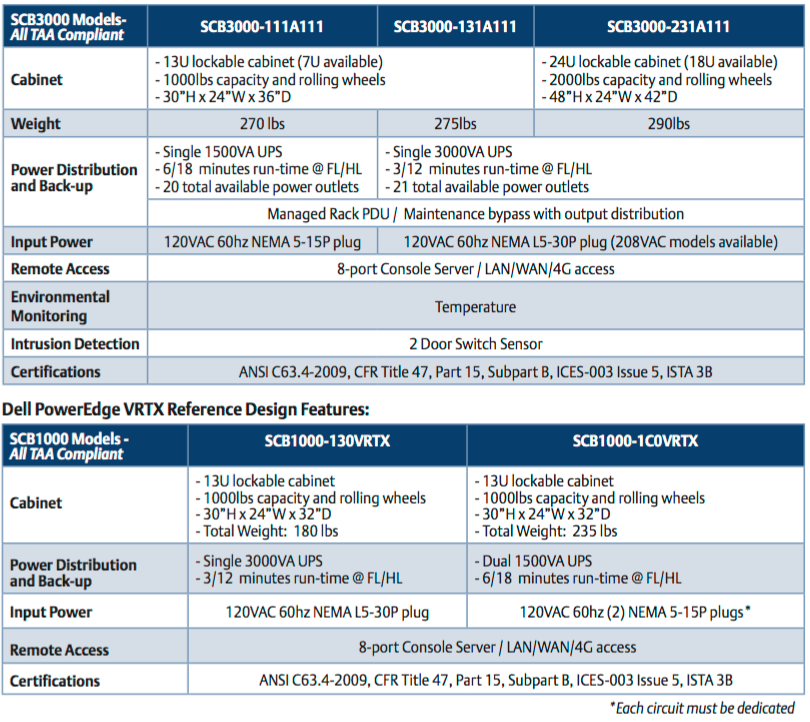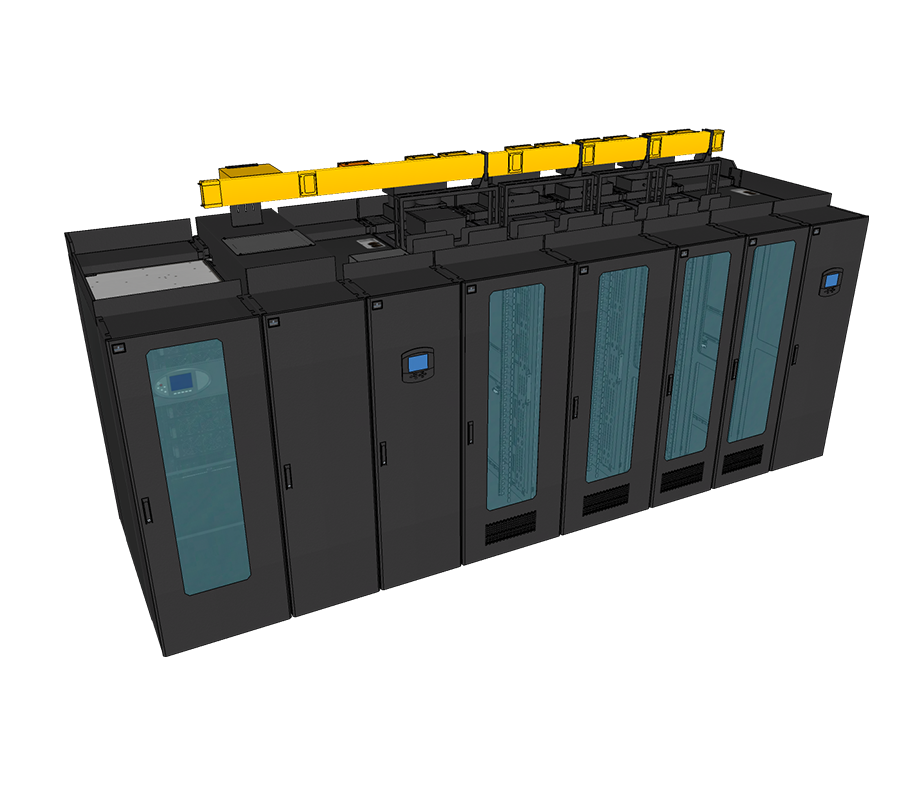 SmartRow™
A simple, fully integrated row-based infrastructure combining up to ten racks, with precision cooling, UPSs, power management, monitoring and control technologies, and fire suppression; all in an enclosed system.
The SmartRow infrastructure solution solves a problem all too common to IT management: addressing IT needs without building new data center space. Think of the SmartRow approach as a data center in a row–a simple, fully integrated row-based infrastructure. The SmartRow offering combines up to ten data center racks–with data center grade thermal management, UPSs, power management, monitoring and control technologies, cable management and fire suppression –all in an enclosed system.
Quick to deploy, efficient to operate, built for flexibility, and easy to manage. The SmartRow offering is unique in the industry and ideal for small data centers.
Cost to Deploy and Operate
Reduce required room modifications to support IT.
Reduce engineering services, permitting, construction and installation costs.
Reduce real estate cost by minimizing the footprint required for equipment supporting IT.
High-efficiency cooling architecture reduces energy costs.
Time to Deploy
Reduce time required for design, permitting, and assurance of regulatory compliance.
Reduce time for implementation of room modifications.
Reduce time for equipment selection, configuration and installation.
Risk Management
Reduce downtime risk with robust redundancy capabilities including backup ventilation, and maximization of factory integration.
Reduce downtime risk with remote monitoring and management.
Reduce time for equipment selection, configuration and installation.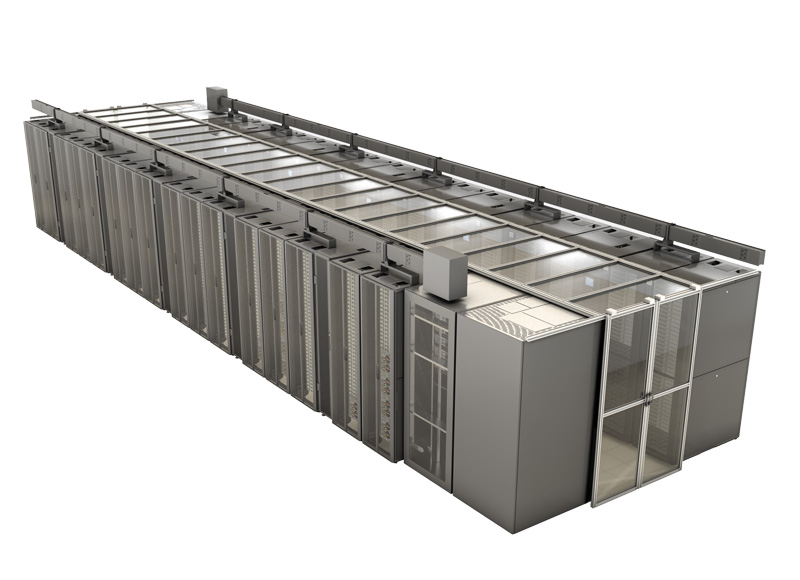 SmartAisle™
Optimizes infrastructure deployment and management with an intelligent row-based system integrating racks, power, row cooling, aisle containment, monitoring and control technologies for spaces with up to 40 racks.
As with all Smart Solutions offerings, the SmartAisle offering is engineered for economy, efficiency, ease of management and most importantly, the ability to be changed as your IT requirements change.
Efficient
Reduce energy consumption up to 27% compared to conventional data center design through the use of Cold Aisle Containment, Liebert® precision cooling systems, and Liebert iCOM® controls.
Increase availability by using high-ef ciency power systems, such as Liebert APMTM UPS or Liebert GXT3TM.
Improve productivity and standardize equipment moves, adds and changes with monitoring and management technologies.
Flexibly and cost- effectively distribute power to the rack using Liebert MBTM Modular Busway, compared to using a distribution cabinet.
Economical
Achieve equipment cost savings and extend your existing infrastructure investment by using more ef cient designs and technologies.
Save up to 10% in capital expenditures using technologies that help you avoid expensive room upgrades to cooling systems, ooring and power management.
Simplified
Simplify design, implementation and reconfiguration using standardized, integrated systems.
Ensure continuity of business operations with single system startup, warranty, preventive maintenance and repair.
Utilize industry- leading service and support provided by local data center design experts.
Controllable
Free up stranded capacity and gain ef ciencies using Avocent® Data Center PlannerTM and Liebert SiteScanTM software.
Maintain cooling equipment operating levels to ensure ef ciency and availability, using Liebert iCOM controls.
Monitor and manage power capacity within the rack, by using Liebert UPS systems and rack PDUs.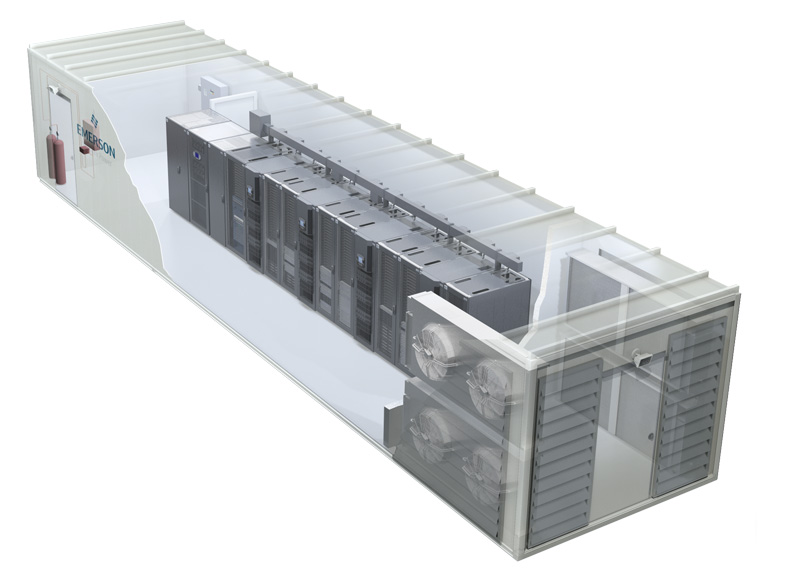 SmartMod™ for IT
Pre-engineered from the ground up to provide complete power and cooling infrastructure and configuration flexibility with remote management and intelligent controls to accommodate your needs for economy and efficiency.
SmartMod AC Power Architecture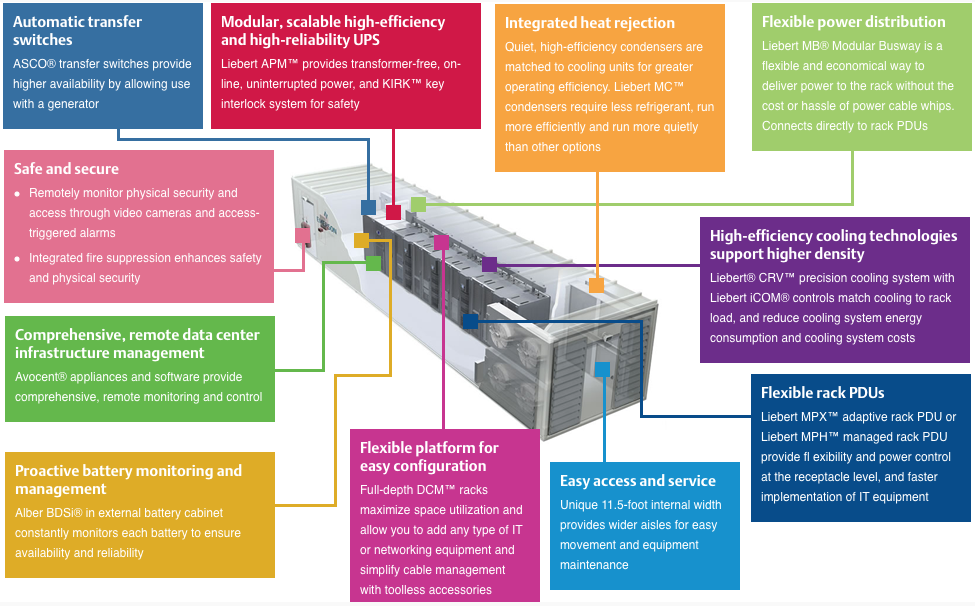 SmartMod DC Power Architecture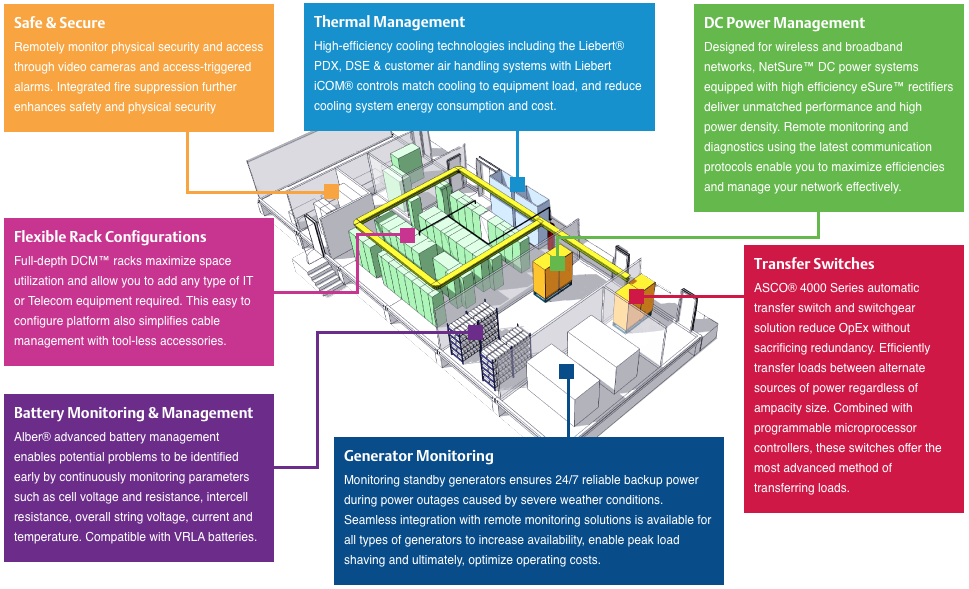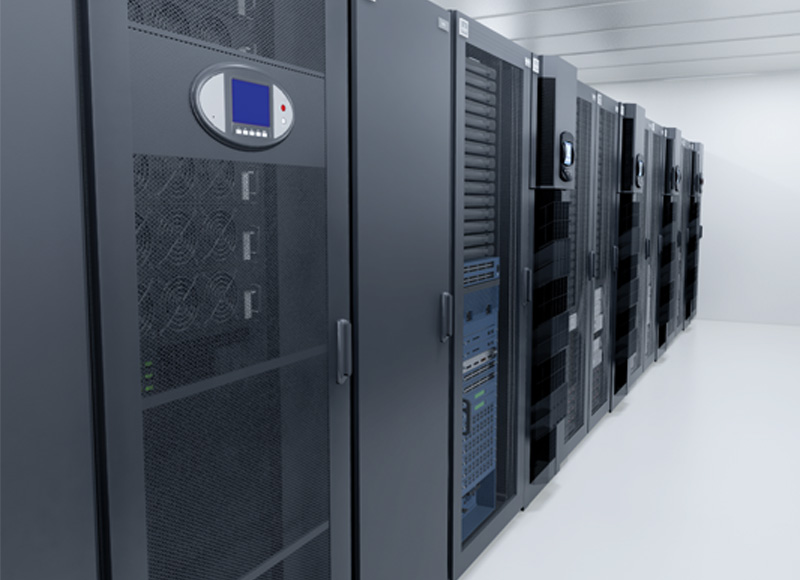 SmartMod™ for Telecom
Offers an intelligent, rapid deployable, modular enclosure for network aggregation, seamlessly connecting end users to the high speed internet backbone.
Think modular
Modularity allows critical power and cooling to be sized to meet availability requirements.
Standardize
With a repeatable, standardized design, capacity can be added or temporarily adjusted to meet changing demand.
Prefabricate
Factory-installed power infrastructure modules minimize turn-up time.
Multi-task
On-site construction work can progress in parallel with factory-based module fabrication.
Leverage experts
Industry experts bring knowledge of global standards and operating procedures, a well structured plan, and standardized processes that enable efficient, rapid deployment.
Consider total cost of ownership
Taking a modular approach enables implementation of a supply chain process at the network level that helps reduce lead times, control costs in the value chain and increase speed of deployment.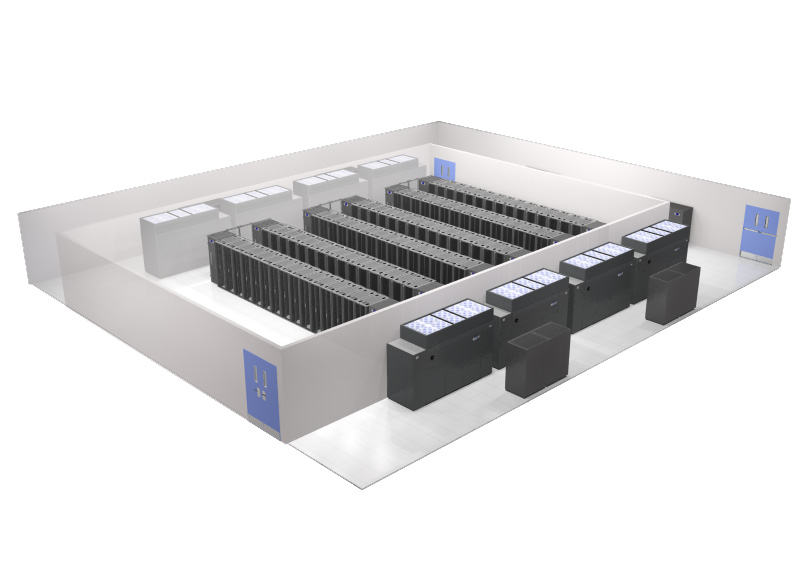 SmartDesign™
Critical data center facilities require effective planning, design and configuration to optimize performance. This requires the right expertise, coupled with optimal technologies to enable data center best practices.
Management and Planning
Streamline operations with comprehensive management controls.
Lower long-term operational costs with proactive maintenance programs.
Operation
Reduce energy costs with efficient technologies.
Decrease downtime costs through high availability configurations.
Increase productivity through greater efficiencies.
Design & Deployment
Simplify con guration and implementation.
Reduce the time required for system design and deployment.
Reduce space and capital requirements.
Power is a critical resource and an expensive reality.
There's a reason we're the #1 choice of so many IT professionals.
Contact us and experience why.

Questions? Call us.
We're here to assist you with optimizing your power backup, distribution, and measurement for a more efficient server room.
1-800-638-2638

One of our data center solutions specialists will work together with you to find the optimal solution for your system.