VIA family of True-Collaboration™ solutions including VIA Collage for more complex meeting spaces and VIA Connect PRO for huddle spaces and small to mid-sized meeting rooms.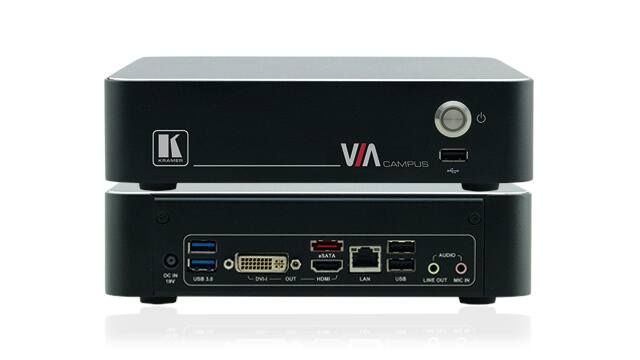 Wireless Collaboration Solution
Wireless presentation system enabling a presenter and participants to edit, share, and view files with any laptop or mobile device in real-time
Image
Product Code
Product
Inputs
Outputs
Features
VIA Campus
Wireless Presentation and Collaboration Device for Education and Training
5 USB-A
1 Ethernet
1 HDMI
1 DVI-I
- Multi−Person Content Collaboration
- 1024−bit Encryption
- 1080p 60fps video - Streaming Playback
- iOS and Android Mirroring
- Windows 10 Operating System
- Third−Party App support − Such as Microsoft Office®, Skype®, GoToMeeting®, Lync®, and WebEx®
- e−Polling − Conduct surveys
- e−Exam − Offers interactive, multimedia tests
- Audio − Unbalanced
- Audio - U
VIA Pad
VIA Step−in Touch Pad
1 Buttons
1 USB-A
Mac and Windows Compatible
Easy Plug and Play Connection
Status LED Ring
VIA Pocket
VIA Pad Holder
N/A
N/A
N/A
VIA-TCB
True−Collaboration in a Box
N/A
N/A
- Meet smarter wirelessly with any laptop, tablet or smartphone
- Everything you need in one package
- Easily share any size file
- Stream full−HD video and audio
- Annotate with a whiteboard
- Chat with one or all participants in the meeting
VSM
VIA Site Management
N/A
N/A
- Configuration − Sets Defaults/Features
- Status Updates
- Health Checking − Monitors CPU/HDD
55,000+ Client Companies Have Chosen 42U
There's a reason we're the #1 choice of so many IT professionals.
Contact us and experience why.

Questions? Call us.
Call in and speak with one of our knowledgeable solutions engineers who will answer any questions you might have.
1-800-638-2638

One of our data center solutions specialists will work together with you to find the optimal solution for your system.