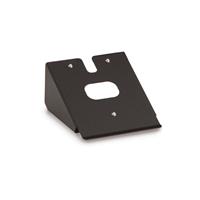 SKU:
2000-3-001-01
POS Payment Device Stand
The Kendall Howard POS Payment Device Stand offers merchants and consumers a user-friendly mounting system for modular payment devices. The ever-growing use of electronic payment terminals can be seen in industries such as retail, restaurants, hospitality, banking, and even transportation. Designed with these markets in mind, the simple and universal design of the POS Payment Device Stand can be utilized with various transaction stations and in diverse environments.
30 degree fixed angle
Black powder coated steel
Pre-applied rubber feet
Made in the USA
Limited Lifetime Warranty
55,000+ Client Companies Have Chosen 42U
There's a reason we're the #1 choice of so many IT professionals.
Contact us and experience why.

Questions? Call us.
Call in and speak with one of our knowledgeable solutions engineers who will answer any questions you might have.
1-800-638-2638

One of our data center solutions specialists will work together with you to find the optimal solution for your system.