CPI's Cable Runway and Tray Products provide simple and effective pathway solutions to easily manage and protect cables while maximizing network infrastructure uptime. With a variety of options and accessories available, CPI Cable Runway and Tray Products can be tailored to meet the specific requirements of each facility and are adaptable for future growth.
Benefits include:
High-quality construction and design.
Promote proper cable bend radii for better data transmission.
Decrease cable damage.
Simplify moves, adds and changes.
Prevent tangled cords.
Meet ANSI/TIA/EIA installation guidelines for Category 5e/6/6a and fiber cables.
Provide an attractive installation.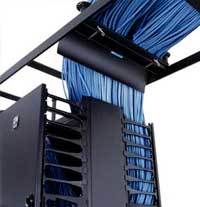 Cable Runway
Support backbone and horizontal cables between the point of entry and exit into the telecommunications or equipment rooms and cross-connects on racks or cabinets with CPI Cable Runway Products. A wide selection of supports, splices and accessories are available.
Constructed of rectangular steel tubing for strength and support.
132 lb/ft maximum load with runway supported every five feet.
Individually boxed to prevent scratching and damage.
Meets ANSI/TIA/EIA installation guidelines.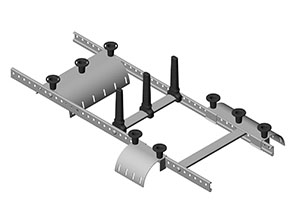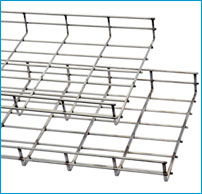 OnTrac® Wire Mesh Cable Tray
Wire Mesh Cable Tray Products provide point-to-point pathways for network cabling in data centers, network equipment rooms and office spaces. CPI offers OnTrac® Wire Mesh Cable Tray, a complete solution for indoor cable pathway applications. OnTrac creates point-to-point pathway for network cabling in data centers, network equipment rooms and office spaces. It installs quickly and can be cut to form smooth curved transitions around obstacles. Route cables under access floors or above acoustic ceilings to create hidden pathways for cables.
OnTrac Features:
Easy-to-use pathway solution that supports large quantities of network cables.
Can be cut and formed to create smooth curved transitions around obstacles.
Open top design makes cable moves, adds and changes easier.
Available in multiple widths and depths to match cable fill requirements.
Easy to splice and bond together.
Support trays from the floor, ceiling, wall or the tops of racks and cabinets.
UL Classified as an equipment ground conductor.
Constructed from 5 mm and 6 mm diameter steel wires, welded on 2" x 4" (50 mm x 100 mm) intersections.
Available in three heights 2" (50 mm), 4" (100 mm) and 6" (150 mm) and various widths in standard 10'L (3 m) sections.
Pre-galvanized, black powder coat paint or zinc electroplate finish.
Wide range of splices, clamps and brackets available.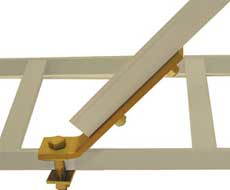 Seismic Protection Systems
CPI provides a variety of products to reduce the risk of equipment damage from seismic events. Stabilize and reinforce your cable runway with the below braces, brackets and kits.
Featured Products:
Heavy-Duty Junction-Splice Kit
Heavy-Duty Butt-Splice Kit
Wall Angle Support Kit
Threaded Drop Rods
Earthquake Bracing Kit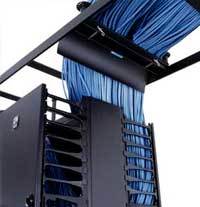 Accessories
To create the ultimate cable pathway and runway solution, Chatsworth Products offers a wide variety of pathway and runway accessories. Whether working with network cables above drop ceilings or under access floors to cabinets and racks in data centers or equipment rooms, you need a flexible pathway for installations and existing obstacles.
Accessories such as cable runway supports, splices, radius drops, runway bends, elevation kits and corner brackets join together to form a complete solution that ensures strong cable signal quality, reduces unnecessary clutter and confusing arrangements, and ultimately, streamlines your network for optimal use.
Runway Accessories
> Cable Retaining Post
> Cable Runway Tray
> End Closing Kit
> Protective End Caps
> Touch-Up Paint
Wire Tray Accessories
> Cable Tray Cutting Tool
> Split Bolt Grounding Clamp
> Auxiliary Side Bracket
> Section Support Bracket
> Conduit Bracket
> Label Holder
> Electrical Box Bracket
55,000+ Client Companies Have Chosen 42U
There's a reason we're the #1 choice of so many IT professionals.
Contact us and experience why.

Questions? Call us.
Call in and speak with one of our knowledgeable solutions engineers who will answer any questions you might have.
1-800-638-2638

One of our data center solutions specialists will work together with you to find the optimal solution for your system.