Point, click, reboot. It's that simple. Global Power Management makes it easier than ever to maintain total control over an installed RPC base. Now the data center or remote site administrator has a simple and intuitive graphical interface to all functionality of the BayTech Remote Power Control devices. Always know via email exactly when temperature or current thresholds have been exceeded, and how much power is being used by which RPCs. Graphically view power usage over time to easily audit or make projections on current or future usage.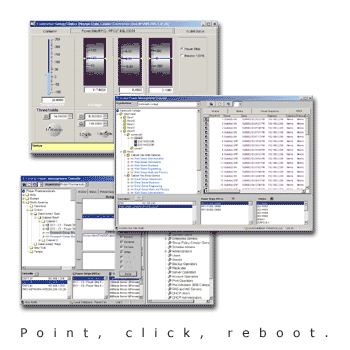 But that's not all. Installation is a snap with auto discovery of BayTech SNMP controllers and RPCs. Easily build tree views of detected RPCs and their controllers, giving the admin the ability to view critical power statistics at the click of a mouse.
Note: Global Power Management software will not work with dual host DS Series, DS2-RPC, and/or any RPC that does not support SNMP.
Discovers BayTech devices on existing subnet.
Build Logical and Functional Views of RPC's in Remote Locations.
Supports Equipment with Single or Redundant Power Supplies.
Provides easy "Click Through" control of RPC's anywhere.
Displays Alerts for All or Individual RPC's.
Notification of Alert via Email.
Graphically Displays Power Environment Per RPC.
Provides Graphical Reporting for any segment or organization node.
Exposes Enterprise Security Model for Access to Power Control.