High quality, reliable recorders
Niagara Video provides DVD recorders with different inputs, a wide variety of customization options, and security features so you can lock down your videos.
HDi and HDi-SDI Models
Our models offer rack mounting for professional installations and are compatible with component and composite analog inputs, as well as HDMI digital inputs for the greatest level of accessibility in commercial, industrial, and military facilities. Our HDi-SDI models also offer functionality with an SDI digital input, and our specialized HDi-MIL model has no hardware, does not retain the video in memory after being powered down or network interface to provide secure operation. The HDi recorders are a series of versatile disk-based video recorders designed for industrial, scientific, educational, and military video recording.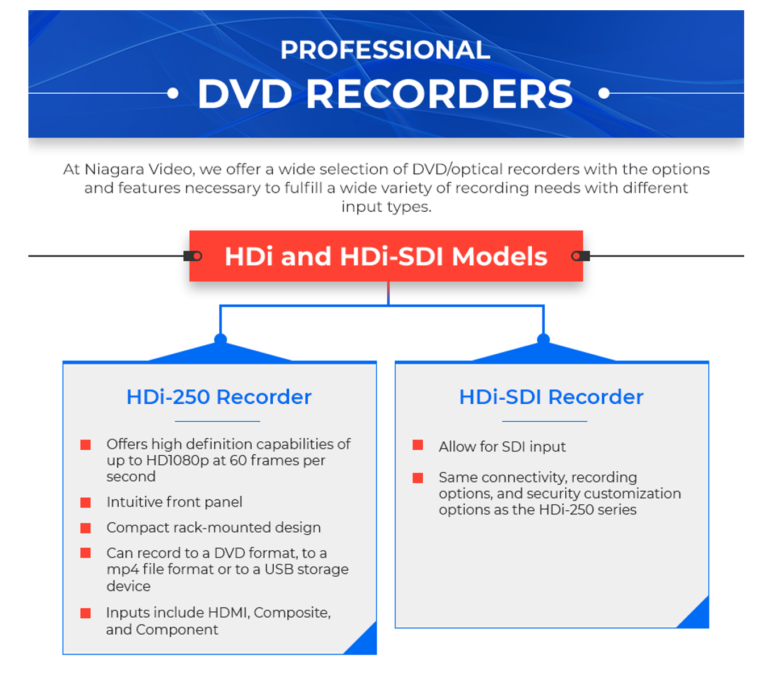 Featuring
Compact 1U Rackmount design with removable rack brackets allows for desktop operation.
High Definition Video up to HD1080p (1920×1080) in MPEG-4 & MPEG-2. Support for a wide range of resolutions and frame rates.
Video I/O for the HDi-250 is HDMI, Component, and Composite with 2-channel stereo audio. The HDi-SDI adds SDI input as well.
HD to DVD Exclusive Dual-Stream Recording captures full HD video and transcodes/scales to DVD format files simultaneously.
Video Overlay is available as Date, Time or Date & Time in the picture.
Responsive Display messages show status and record setup options as well as playback and disc burn options.
HDi Control is as versatile as HDi recording. Many operations are available and via Serial RS-232, TCP/IP (Telnet) commands, and Web GUI.
Storage Options abound. Record to Hard Drive, Optical Disc, or USB device. The removable disk option ensures complete security and ease of changing media for different assignments.
Remote Control Protocol Support for Telnet, serial, and USB remote control.
Optical Storage: A DVD drive is standard. Files can be copied to the DVD disc (+R, -R, +RW) as files or formatted and recorded as DVD-Video discs with No Menu, Text Menu, or Motion Video Icon menus. Recordings can also be copied to a network drive or to the front USB port.
Network Security Connection to the network and file transfer to Windows machines is selectable On/Off. Secure Shell/SSH is standard. For Military security, the HDi can be ordered with NO USB and NO network ports.
Commercial & Military Customers – Recorders Industrial Applications
Our DVD/optical recorders offer long-lasting, reliable performance across multiple industries. SDI recorders are high-performing HDi recorder models that also allow for SDI input. These models offer the same connectivity, recording options, and security customization options that our HDi-250 series offers to commercial, military, and industrial organizations.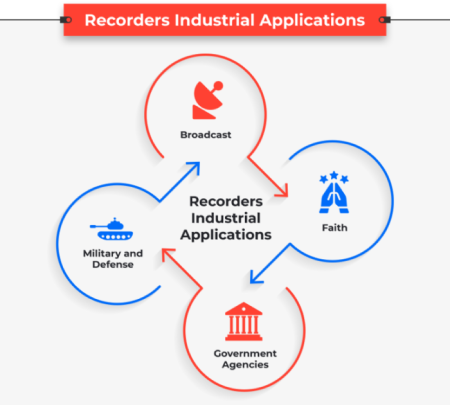 Broadcast, Faith, Government Agencies, Military, and Defense are all considered. Including considerations for: no network, hard drive, or USB for total security containment, permanent file deletion once the device powers off, output option of optical disc only. These specialized options are available in both HDi-250 and HDi-SDI recorder models.
DVD Recorders with HDMI vs. SDI Input
High Definition Multimedia Interface (HDMI) is a commonly used video standard, especially in consumer and commercial environments. It is uncompressed and universal, making it ideal for easy sharing and viewing. The signal can reach approximately 50 feet. There are HDMI products that can extend these distances so we are referring to a standard HDMI interface and cable.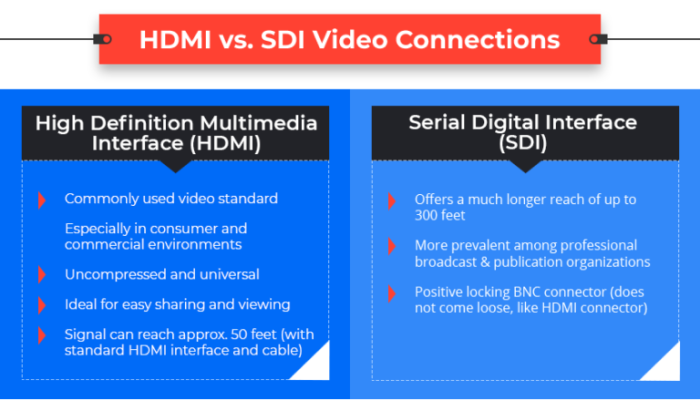 Serial Digital Interface (SDI) offers a much longer reach of up to 300 feet, and it's much more prevalent among professional broadcast and publication organizations. SDI connections offer a positive locking BNC connector that does not have the problem of coming loose, like an HDMI connector.
Signal management is a critical element of effective workflow communication.
There's a reason we're the #1 choice of so many IT professionals.
Contact us and experience why.

Questions? Call us.
We're here to assist you with optimizing your power backup, distribution, and measurement for a more efficient server room.
1-800-638-2638

One of our data center solutions specialists will work together with you to find the optimal solution for your system.
sales@42U.com