Close Coupled Cooling - Liquid Cooling Analysis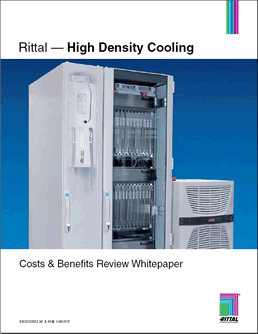 Traditional computer room cooling systems have become overloaded, as the trend towards high heat density IT hardware increases. This has the IT community looking for strategies and solutions to provide enough power to ensure network availability while configuring a rack level cooling system that supports current and next generation technologies.
This white paper focuses on two types of data center cooling solutions. Running side-by-side tests and analysis, the paper reviews the performance of a traditional, hot aisle/cold aisle data cooling configuration, and an identical data center configured with a liquid cooling system.
This White Paper Presents:
Technology Review

The three main methods for high density cooling
Liquid cooling system configurations, including closed coupled cooling
Data center configurations and considerations for end users

Analysis and Discussion

The design parameters, initial cost analysis and real estate analysis
The potential savings on energy and real estate provided by a liquid cooling system
Calculating power usage factor (PUE) and green data center potential
Deploying energy efficient systems and eligibility for utility rebates

Conclusion

Considerations for rack level cooling deployments within an existing data center while planning for future cooling demands and next generation technologies
Deployment of a liquid cooling/closed coupled cooling system in conjunction with high density computing products
Considerations for green data centers, including cost savings and rebates
Identifying the data center's "sweet spot" that balances data center cooling, computing and power requirements
Click here to view the white paper.