Encompassing four specialized software packages, the Portfolio makes it easier to set up and operate a Thinklogical system, and improves overall system performance by reducing total cost of ownership, enhancing productivity and maximizing uptime. Each software package combines multiple user-friendly tools to simplify system management and ensure reliable daily operation. The four software packages are: Configurator, Configurator Plus, Enhanced Productivity Packaged and System Management Interface.
Enables faster router set-up and simplifies user controls; The Configurator provides step-by-step screens that guide the administrator through router set-up, from adding users and devices to applying security settings.
Setup users and groups and define access rights by individual.
Setup stations by defining sources and destinations and which users and groups can view each station.
Setup station-based macros to make multiple connections at one time, and save for future use.
Take snapshots to record connections made on each port and save for future use.
Define router name, type and IP address.
Connect multiple routers with unidirectional tie-line management.
View system information (log-ins, connections made, operations performed, error messages and system updates).
Test router port connections by cycling through sources and destinations or broadcasting to specific ports.
VIEW command connects a source's video to a destination without disturbing existing video displays or keyboard controls.
SHARE command connects a source's video to a destination without disturbing other video displays, but also assumes keyboard and mouse control.
TAKE command disconnects the source's video from any existing displays and send it only to the chosen destination and takes control of the keyboard and mouse.
Hot Key Manager allows users to access specific sources or cycle through approved lists of sources with configurable control keys.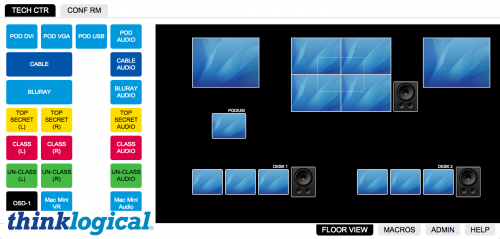 Signal management is a critical element of effective workflow communication.
There's a reason we're the #1 choice of so many IT professionals.
Contact us and experience why.

Questions? Call us.
We're here to assist you with optimizing your power backup, distribution, and measurement for a more efficient server room.
1-800-638-2638

One of our data center solutions specialists will work together with you to find the optimal solution for your system.