Accurate real-time views of your entire data center including servers, storage, networking equipment, rack PDUs, patch panels and applications.
Contact or call to fit up your server rack with your best fit model! The model library is vast and continually updated:
30,000+ Smart Models
450+ Manufacturers
13 Categories of Physical Media
10 Protocols & 25+ Network Speeds
250+ Com and Power Connectors
Updated Monthly
Customize, Search, or Filter
Define Your Company Library with "My Models"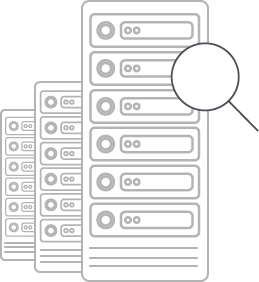 "Asset Management on Steroids"
Track detailed information on all your data center infrastructure assets and even add your own custom fields.
Extensive detail and asset information including servers, networking, and storage
Instantly get a picture of what assets you have, who owns them and where they are located
Reports facilitate auditing and compliance of your assets
Quickly search for assets and get detailed information with a click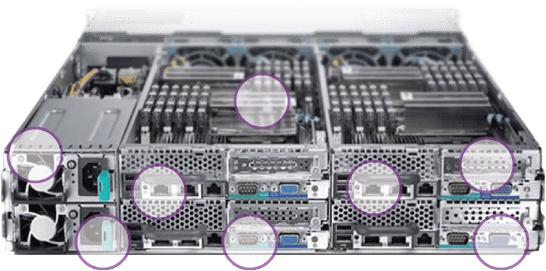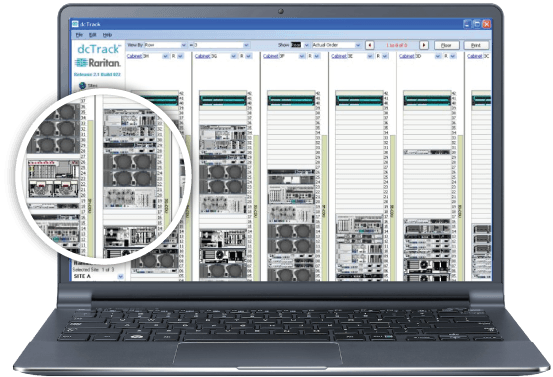 Take DCIM anywhere
You don't have to visit the DC floor to check up on rack configurations — there's an Android and iOS mobile app to easily scan, search, AND edit your DCIM database.
Critical information at your fingertips
Faster, easier, more accurate, paperless auditing
Works on Apple iOS and Android
Drag and drop asset items within a rack
See front and rear images
See simple names
Overlay and see port level labels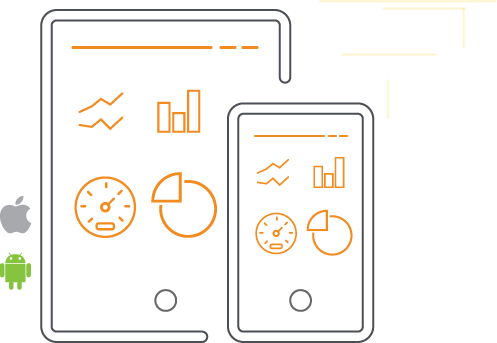 dcTrack – DCIM Operations Software
When integrated with a CMDB or change management system for workflow functionality, dcTrack provides a fast ROI especially during any data center relocation, consolidation, or new build project. dcTrack can be easily deployed as a standalone DCIM operations solution or with Sunbird's DCIM Monitoring Software — Power IQ for power and environment monitoring.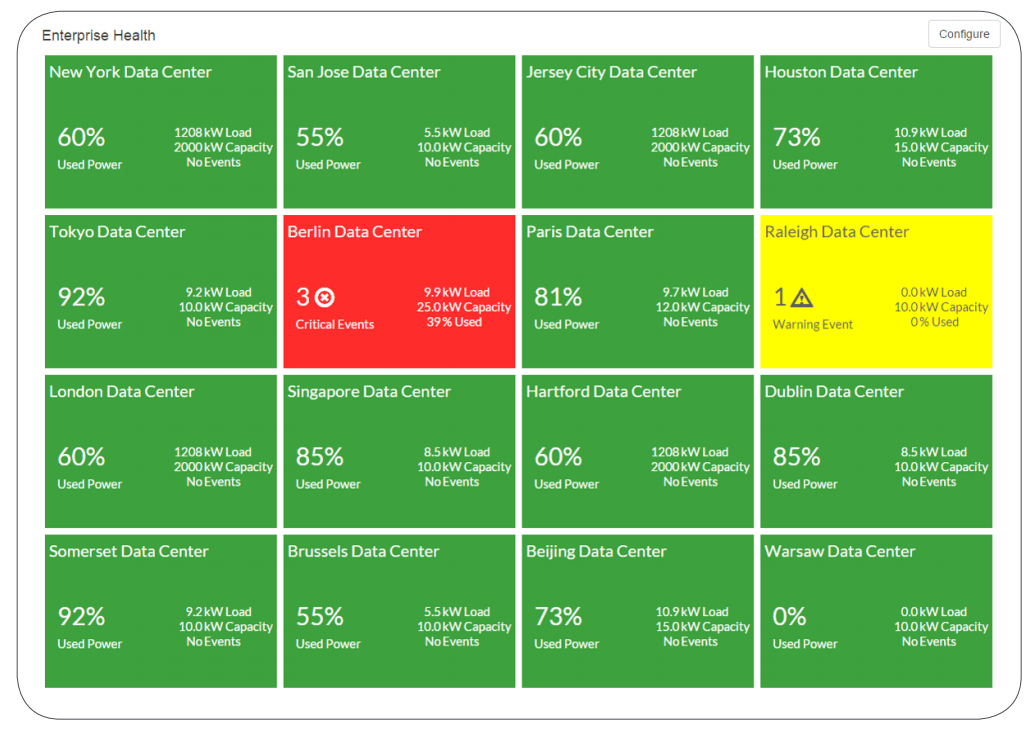 Enterprise Dashboard
Provide an at-a-glance view of the health and capacity of your global footprint with the ability to click to drill down to obtain details at a floor, room, pod, row, cabinet and device level.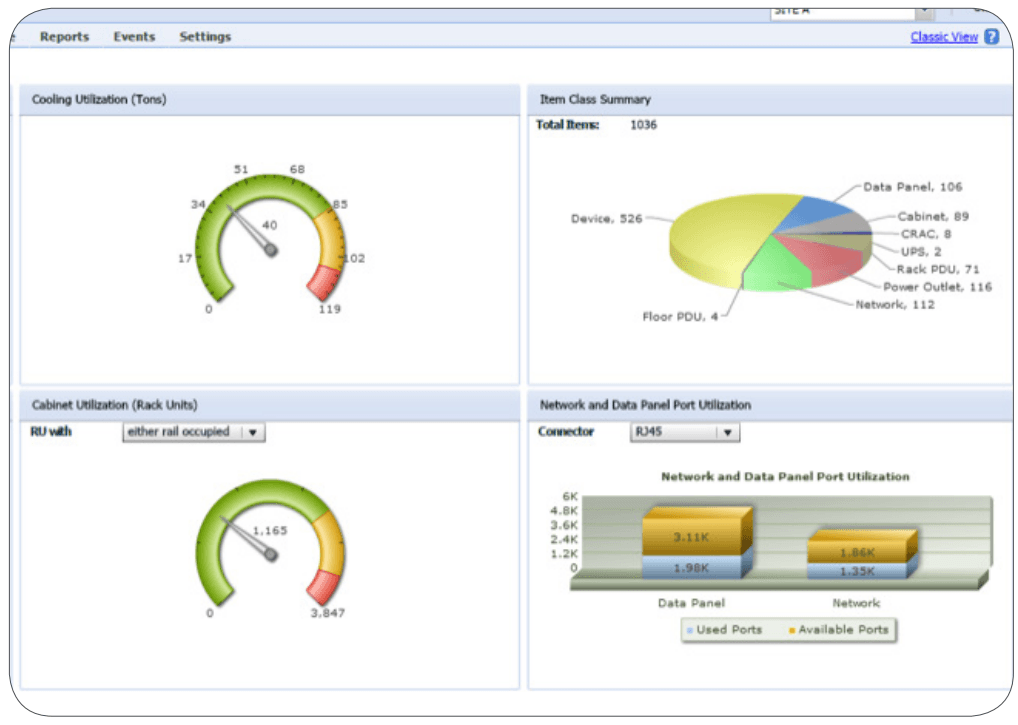 Capacity Management Dashboard
Provides real-time resource utilization data for better electrical, cooling, floor, cabinet, cable and network capacity planning. Quickly see how much capacity you're using and, more importantly, how much is available.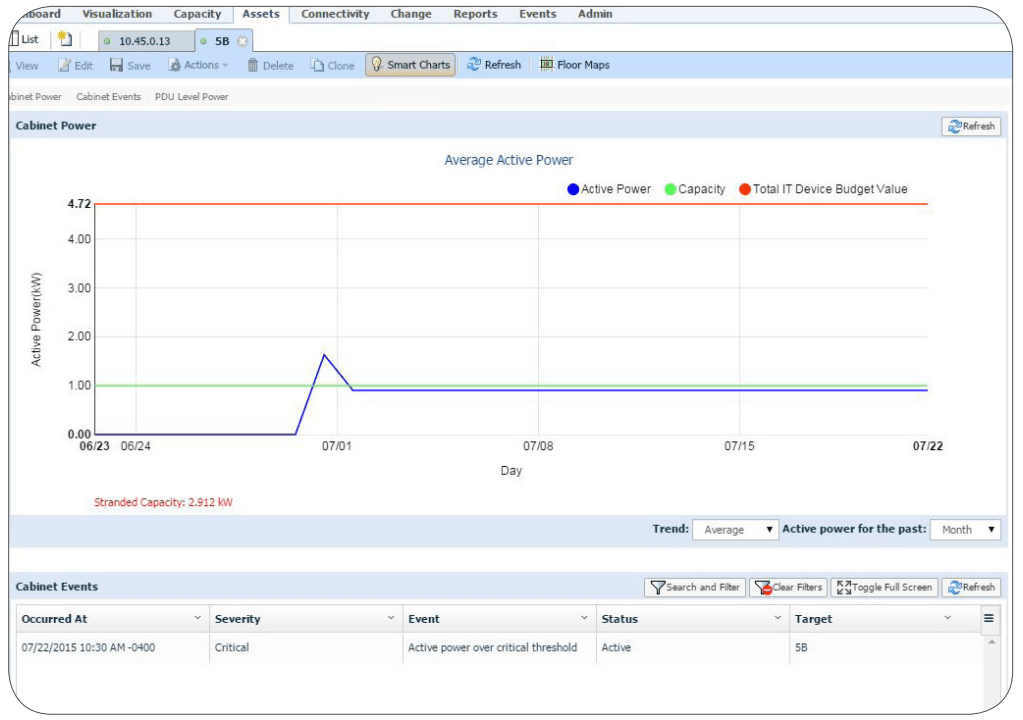 Smart Power Capacity Chart
Easily find your available and stranded power capacity by correlating real-time measured load and planning information. Save on capital expenditures by using stranded power capacity which will enable you to confidentially defer new cabinet build outs.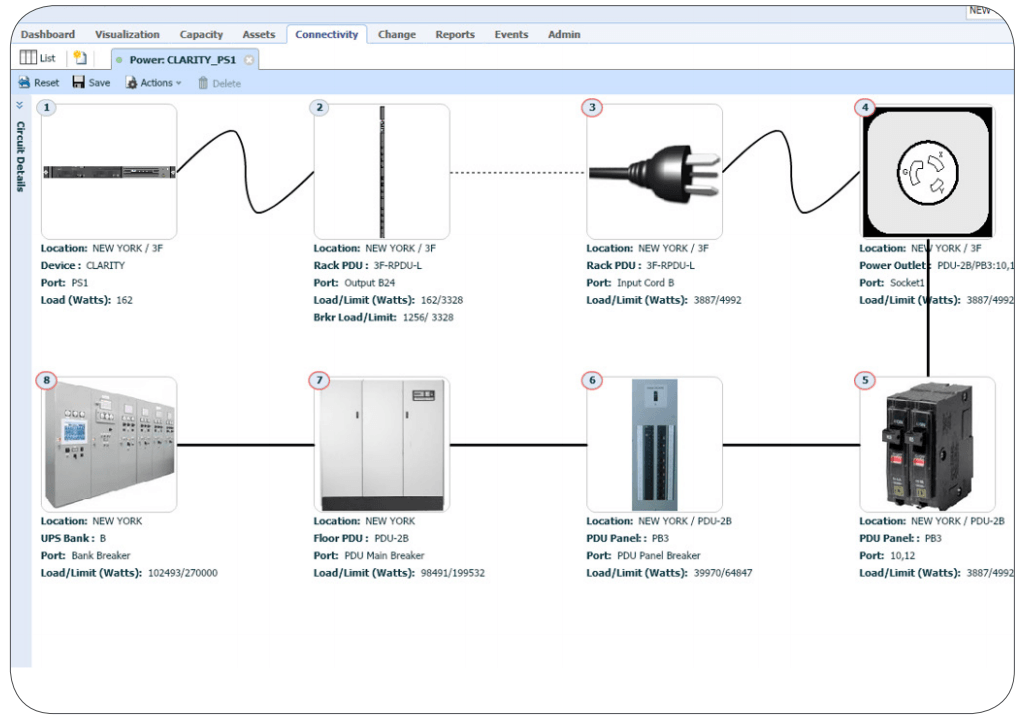 Full Power Chain Management
Ability to budget power at every connection point in the power chain from the UPS to the device power supply with (N) or (N+1) redundancy. Budgets power the same way electrical engineers reserve power and will not let you blow a breaker.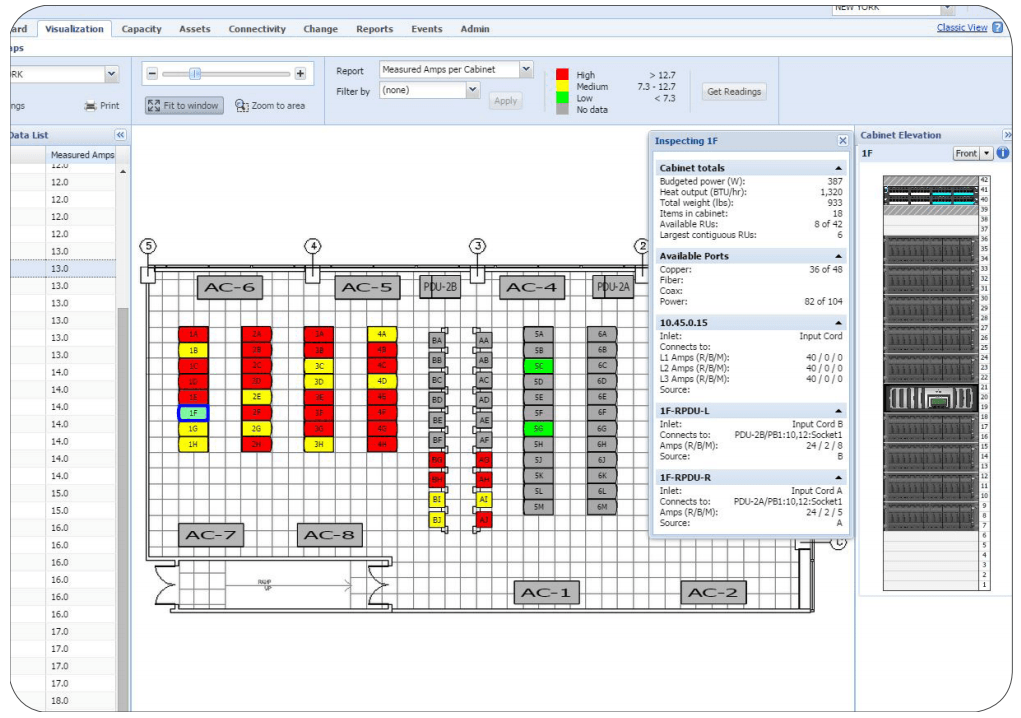 Smart Floor Map
Provides a complete view of your data center power, space and cooling capacities making it easy to spot problems areas with the ability to drill down for more details and the ability to generate reports by customer, function or group.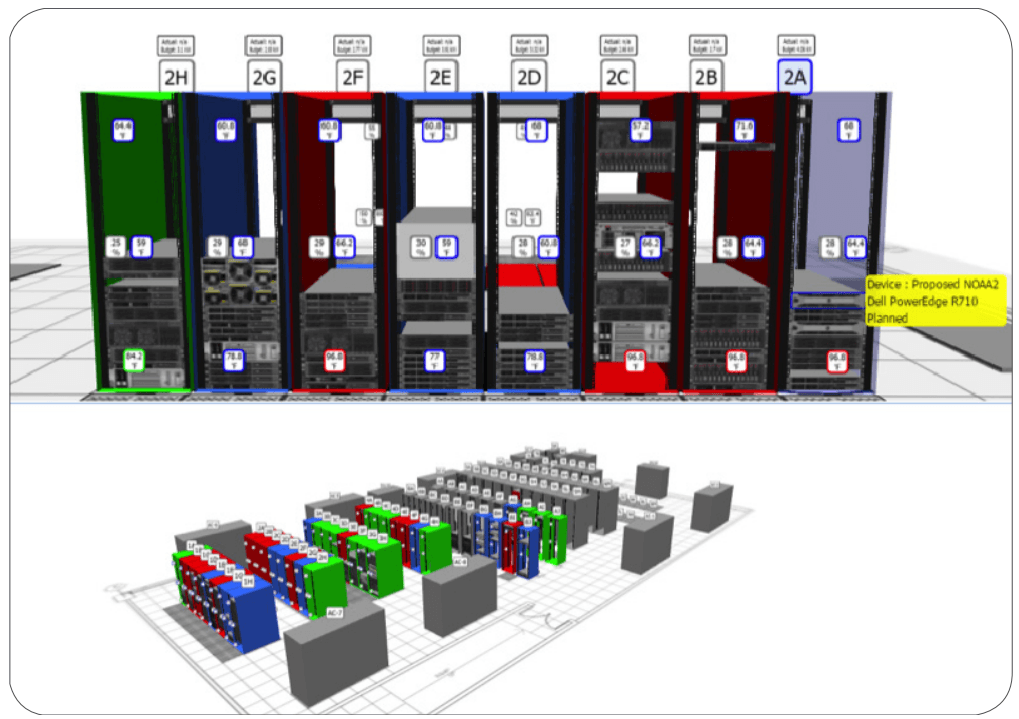 Visualize Cabinet and Row Elevations
Visualize cabinet and row elevations as if you are standing in front of them. Easily see cabinet contents including name, make, model and status. Monitor user configurable thresholds for space, power and cooling with ability to see near real-time readings for power, temperature and humidity.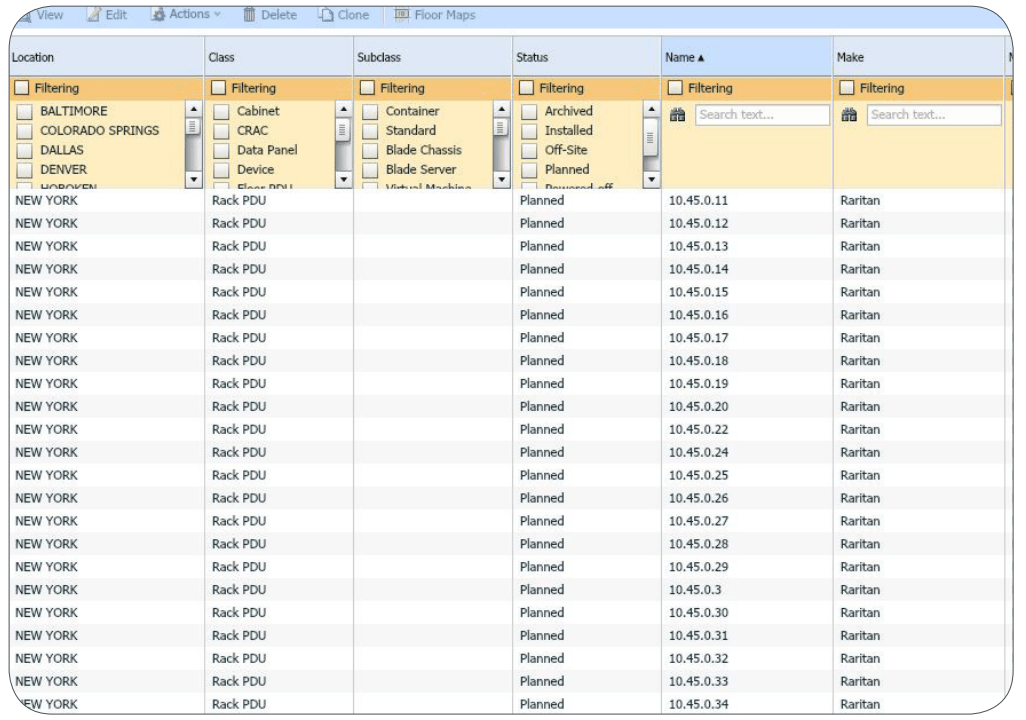 Asset Search
All items maintained are organized in one database and easily searchable by a web browser. Asset information is comprehensive and includes: item type, function, administrator, port location, etc as well as any custom fields unique to a particular device.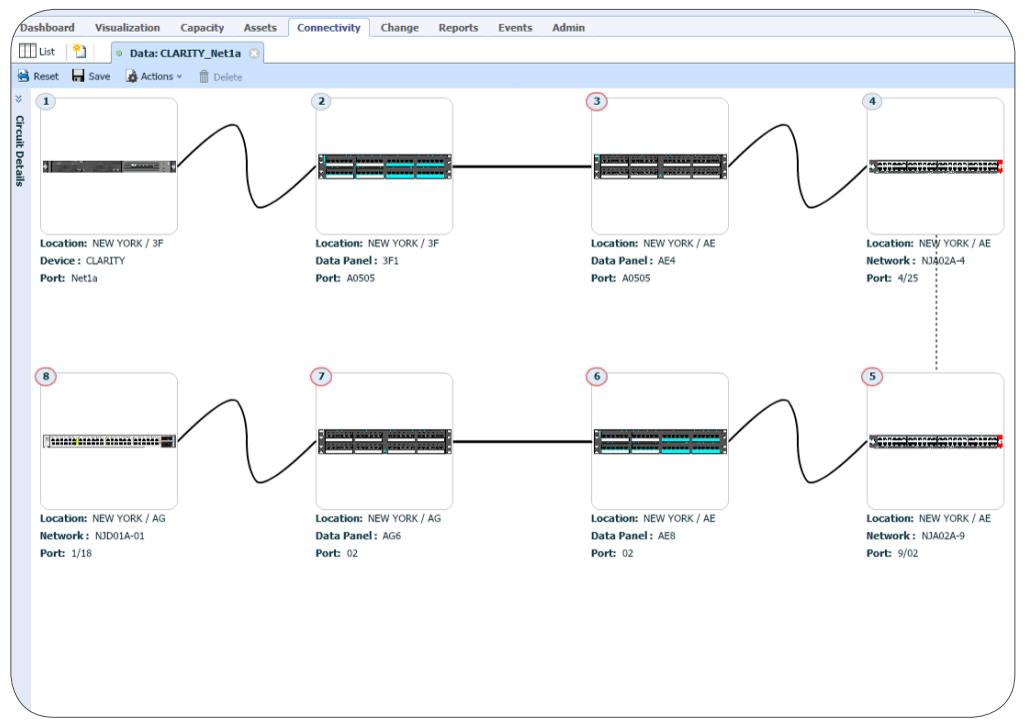 Network Connectivity and Data Cabling Items
Support for all known cable types, connectors and topologies. Users can manage real-world cable infrastructure and labeling scenarios, with support for various design architectures.
55,000+ Client Companies Have Chosen 42U
There's a reason we're the #1 choice of so many IT professionals.
Contact us and experience why.

Questions? Call us.
Call in and speak with one of our knowledgeable solutions engineers who will answer any questions you might have.
1-800-638-2638

One of our data center solutions specialists will work together with you to find the optimal solution for your system.