Energy efficient solutions for legacy computer room air handlers. STULZ offers EC Fan Retrofit Kits, CRAH Replacement Systems, and a Controller Retrofit, all designed to make data center cooling more reliable and energy efficient.
EC Fan Retrofit
Replacement CRAH
E2 Controller Retrofit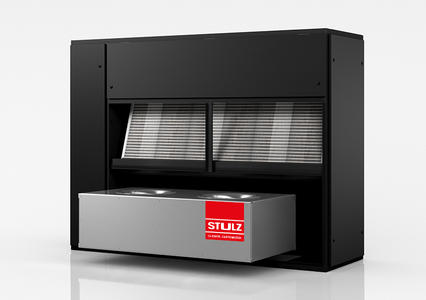 Stulz CyberMod
EC Fan Retrofit Kit
EC Fan Retrofit Kits significantly reduce the operating costs in your data center. Easy-to-install, variable speed EC Fan Retrofit kits replace belt drive DWDI blowers for clean, efficient upgrade to legacy mission critical air handlers.
No changes required to the primary electric or piping
Provides superior air distribution
Built-in fan redundancy
Easy installation
Quiet operation (low vibration, no inverter whine)
Low maintenance (no belts to adjust, no belt dust, no greasing)
Made in the USA
The STULZ CyberMod EC Fan Retrofit Kit has distinct energy saving advantages over other similar retrofit kits on the market, which use variable frequency drive (VFD) motors.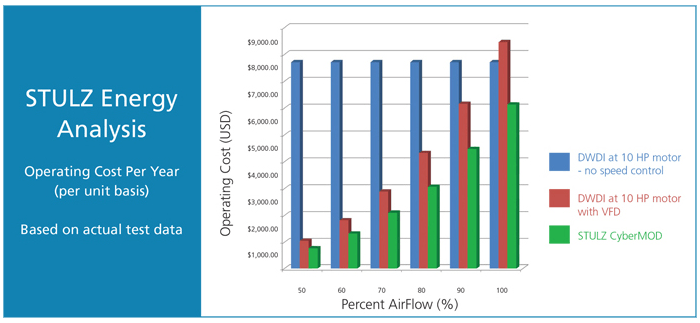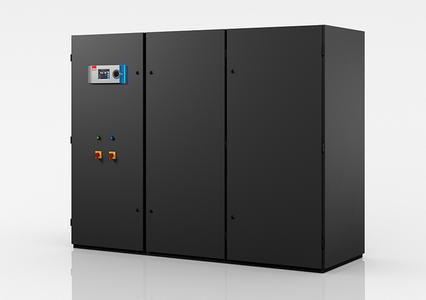 Stulz Replacement CRAH
Direct Drop-In Replacement
Increase cooling capacity and achieve significant energy savings without redesigning your data center. STULZ Replacement CRAHs are high capacity, direct drop-in, chilled water units with modern EC fans. They replace inefficient legacy units with belt-driven fans and provide instant energy savings and improved performance.
No modification to existing piping mains, primary electric, or floorstand
STULZ V-Coil arrangement
Energy saving advantages of up to 40%, simply by replacing the CRAH
Additional energy savings of 50% and beyond can be achieved using advanced controls
Increased air volume at maximum fan speed
EC Fans operate at lower speeds, lower energy, even airflow
EC Fans consume less energy, therefore higher net cooling capacity
EC Fans provide optimized under-floor pressure and balanced airflow
Fast ROI; qualifies for utility rebates
Provides advanced communication and control capabilities
Lowers maintenance costs
Made in the USA
Stulz E2 Microprocessor Controller
Smart Controls
Standard controls across all products. STULZ E2 is the standard microprocessor controller across all STULZ product platforms. E2 provides precision monitoring and control of your mission critical environment.
STULZ E2 Controller ties everything together
Designed specifically for precision control of mission critical environments
Multiple I/O capabilities for all major components to optimize control for energy savings
Supports universal BMS interface for remote monitoring (address readable) and remote control (address writable)
Capable of network controllers in a workgroup (pLAN) to work as one (no BMS required)
Pre-engineered controls for economizers and adiabatic cooling
STULZ E2 Controller communicates with BMS/BAS systems via the following protocols:
BACnet IP
BACnet over Ethernet
BACnet MS/TP
HTTP
SNMP V1, V2c
Modbus IP
Modbus RTU
55,000+ Client Companies Have Chosen 42U
There's a reason we're the #1 choice of so many IT professionals.
Contact us and experience why.

Questions? Call us.
Call in and speak with one of our knowledgeable solutions engineers who will answer any questions you might have.
1-800-638-2638

One of our data center solutions specialists will work together with you to find the optimal solution for your system.