Using proven cooling technology and adding additional white space to the data center.
Air Handler
Packaged Rooftop
Modular Container
Air Handler – Cyberhandler AHU

Air handling unit for demanding data center cooling requirements
The STULZ CyberHandler is a centralized air conditioning solution that is specially designed to free up space in the data center, allowing more room for IT equipment. Utilizing tried and tested precision technology from STULZ, the CyberHandler satisfies the exacting requirements for the air conditioning of data centers with a unit able to be mounted either on or next to the building.


Benefits
Frees up space for additional IT equipment in the data center
Designed for the precise requirements of data centers
Low installation costs (fewer units, installation outside the building)
Lower operation costs
Free cooling options: Direct Free Cooling
No maintenance work on air conditioning units inside the data center (safety, cleanliness, time saving)
Lower risk in the event of a leak, as the units are installed outdoors
Capacity can be selected from a large range
Designed for continuous operation all year round
Data center optimized STULZ E² controls with user adjustable set-point envelope
Made in the USA
Features
Modular design
Maximum energy efficiency for high circulating air and supply air temperatures (in accordance with ASHRAE 90.1)
Coil bypass for reducing the loss of air pressure under a low heat load
Flexible connections for return air, supply air and outside air ducts
Powder-coated aluminum panels – ensure air tightness, protect against reflected sunlight and temperature losses
Aluminum housing for corrosion protection and a low weight
STULZ E² controls – data center specific with user adjustable set-point envelope
Air Handler – Indirect Evaporative Cooling Equipment

Indirect Evaporative Cooling Equipment (STULZ IeCE) embodies STULZ' commitment to efficiency.
STULZ IeCE is an indirect evaporative cooling solution, designed to remove heat by exploiting the evaporation of water. With an air-to-air heat exchanger STULZ IeCE is able to meet the needs of modern IT cooling without introducing the contaminants from outside air, all while achieving potential savings of up to 75% over traditional mechanical cooling methods.
Benefits
Meets the needs of modern IT cooling, achieving potential savings of up to 75% over traditional mechanical cooling methods
Provides tremendous energy savings vs standard Direct Expansion (DX) or Chilled Water (CW) only
Designed specifically for the demands of mission critical data center
Utilizes trusted data center specific control and interface with BMS
Options for DX and CW trim cooling or 100% back-up cooling
Durable construction
Outdoor mounting eliminates unit maintenance inside the white space
A variety of installation configurations can meet almost any facility layout
Made in the USA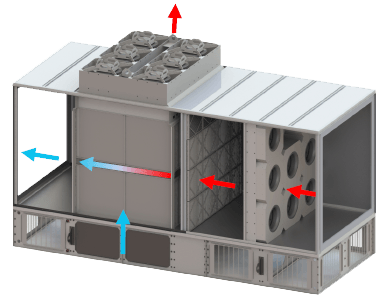 Dry Mode
During the cold season, the scavenger air is capable of cooling the data center air without assistance from the evaporative system.
Even when the ambient temperature is moderately warm to cold, scavenger air can be used exclusively to cool the data center air. Dry Mode can most likely be used every night, even in the middle of summer.
Wet Mode
During the warm season the evaporative system is utilized.
Wet Mode applies when ambient temperature is hot, necessitating the use of evaporative cooling, but relatively dry so evaporative cooling can affectively drop the temperature appropriately.
DX & CW Assist Mode
In extreme weather situations, the Direct Expansion (DX) or Chilled Water (CW) systems are used to supplement the cooling, as needed.
DX/CW Assist Mode applies when ambient temperature and humidity are both high, reducing the effectiveness of evaporative cooling and necessitating the need for "trim" cooling from a DX or CW system.
Packaged Rooftop – Cyberpack

Self-contained, DX Rooftop System
STULZ CyberPack provides a self-contained, DX air-cooled rooftop system, designed specifically for continuous operation in a mission critical environment.
Features
Up to two independently cooled circuits with highly reliable scroll compressors
Environmentally friendly R410A refrigerant
-30°F to 115°F ambient operation (with optional flooded head pressure control)
Functional operations: cooling, dehumidification and filtration
EC (Electronically Commutated) Fans offer considerable energy cost savings and long life
4" thick, MERV 8-15 cartridge air filters
Fan speed is continuously adjustable via the system controller without the use of VFD's
Designed and manufactured in the USA
Easy upgrade from comfort cooling units not designed for data center operation
Modular Container – Cybercon Modular Data Center Unit

Cooling for Modular/Containerized Data Centers
STULZ CyberCon provides superior value for precision temperature and humidity control in a performance optimized data center (POD). This air conditioning solution can be ready for quick deployment with minimal construction, installation and start-up time.
Benefits
Simple transport, easy installation, a complete cooling unit with equipment in a container (completely self-contained design)
Turnkey precision cooling device for installation outside the unit
Designed for air conditioning a prefabricated computer room in container format
Lowers investment costs and can be rapidly adapted to fast growing IT requirements
Offers scalability and rapid enlargement of capacity in line with IT demands
Shortens lengthy planning phases
STULZ E² controls – Data Center specific with user adjustable set-point envelope
Made in the USA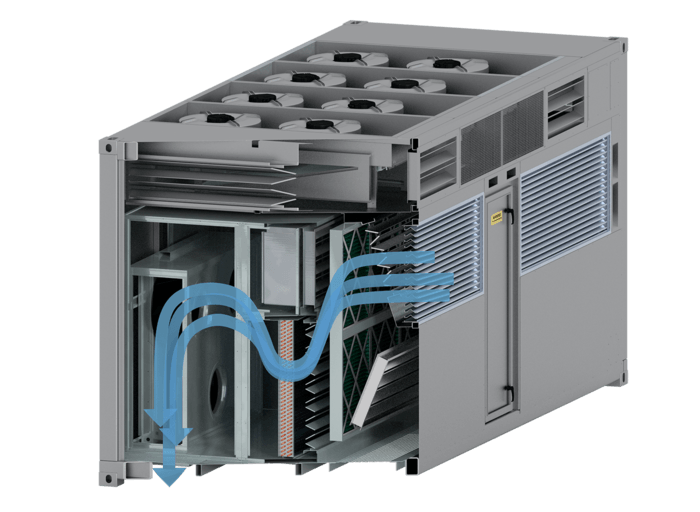 Features
Various cooling systems and Free Cooling solutions are possible
Integrated exhaust air with Direct Free Cooling
Integrated service corridor
Microchannel condensers
Two independent cooling sections with their own controller, enabling N+1 redundancy
Temperature range: -31°F to +114°F
55,000+ Client Companies Have Chosen 42U
There's a reason we're the #1 choice of so many IT professionals.
Contact us and experience why.

Questions? Call us.
Call in and speak with one of our knowledgeable solutions engineers who will answer any questions you might have.
1-800-638-2638

One of our data center solutions specialists will work together with you to find the optimal solution for your system.