DRACO vario | 474 Series |DVI-D extenders
Cat-X extenders for DVI-D, USB-HID
The IHSE USA vario 474 series of extenders offer long distance transmission of DVI-I, DVI-D, USB-HID, USB 1.0/2.0, analog or digital audio and RS-232 control signals over Cat-X or fiber optic cabling. Engineered for reliability and exceptional ultra high resolution image performance, the 474 series uses IHSE USA's optimized compression technology to deliver perfect transmission of 24-bit digital video to 2048×1152 @ 60Hz (including 1920×1200 and 1080p video transports). These extenders provide virtually lossless image quality with IHSE's X-Speed technology and, with the optional dual-head and quad-head versions, workstation clutter is practically eliminated with a single console unit supporting up to four displays.
The units can extend DVI video signals with perfect quality up to 10km over fiber or up to 140m over cat-X cables. Images are displayed without delay, brilliantly clear and in perfect resolution quality. Additionally, the vario series 474 can accept separate USB 1.0/2.0, analog or digital audio and RS-232 data. Audio options for the vario cards include AES/EBU and S/PDIF up to 96kHz. Unit connection options for audio include mini-XLR, RCA or TOSLINK supporting Dolby Digital, DTS and PCM.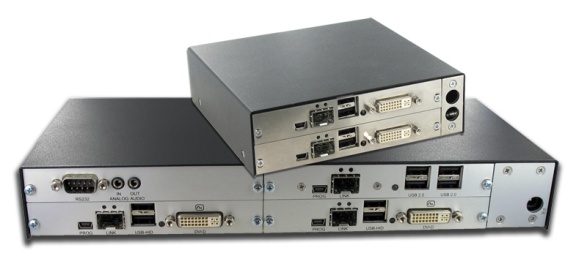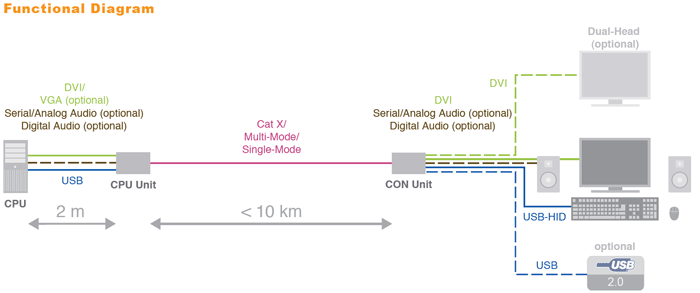 Key Features & Benefits
Support for DVI-D, DVI-I, USB, Audio, and RS-232.
Optional dual-head or quad-head for multi-monitor workstations.
Virtually lossless image quality with IHSE's X-SPEED technology.
Select the right features for your specific needs – order units pre-assembled with basic KVM features or customize you signal requirements with the widest range of free-style plug-in cards to fit a variety of chassis sizes.
Transmit DVI plus USB, audio and control up to 400 feet (140 meters) over a single cat-X cable.
Transmit DVI plus USB, audio and control up to 32,800 feet (10 kilometers) over a single fiber optic cable.
Computer video up to 1920×1200 or 2K video displays.
Pick the right USB port requirements from either USB-HID, USB 2.0 High Speed, or USB 2.0 embedded – get maximum USB functionality with USB 2.0 up to 480 Mbit, or for secure locations just select USB-HID for keyboard mouse only.
RS-232/RS-422 for control signals up to 115.2 kBaud.
Compatible with CAT5e, CAT6 and CAT7 twisted pair cable using RJ-45 connections.
Optional fiber using LC connections.
PCM audio can be transmitted with sample rates up to 96kHz.
Supports EDID and DDC data for sink/source acknowledgement.
Simple keyboard commands (hotkeys) for transmission of remotely connected monitor's DDC information.
LED indicators for signal presence and power.
Energy efficient power supply.
Get the best in space, power and cost savings.
Redundant power option available.
Compact size for areas where rack space is limited.
Redundant path options for mission critical environments.
Easily locate CPU's in protected areas to isolate valuable equipment against dust, water and vibration.
Avoid theft and unauthorized access by locating CPU's in locked server rooms.
Reduce workspace clutter by linking multiple displays to a single keyboard and mouse system.
Reduce energy consumption by locating CPU's in a centralized location.
Reduce noise pollution by moving CPU's away from the users workspace.
Integrated setting for unit configuration include:
Disable DDC transmission to protect current video mode.
Disable HDI transmission to protect current USB-HID.
Set compression rates to maximize customer requirements for video transport.
Set frame allows a snap-shot image for location marks during CPU backup.
Hold Picture allows users to show last image before video link loss.
Product Options
CATx CPU-Unit DVI-D input
DL474-xxxx
Fiber CPU-Unit DVI-D input
L474-xxxx
CATx, Fiber, or Fiber XV CON-Unit DVI-D output
R474-xxxxx
CATx or Fiber CPU Card DVI-D or DVI-I input
L474-xxxx
CATx or Fiber CON-card DVI-D or DVI-I output
R474-xxxx
CPU-option card with USB 2.0, USB 2.0e, USB-HID, PS/2, digital audio, or analog audio
L474-xxx
CON-option card with USB 2.0, USB 2.0e, USB-HID, PS/2, digital audio, or analog audio
R474-xxx
Accessories available, call or contact for details.
55,000+ Client Companies Have Chosen 42U
There's a reason we're the #1 choice of so many IT professionals.
Contact us and experience why.

Questions? Call us.
Call in and speak with one of our knowledgeable solutions engineers who will answer any questions you might have.
1-800-638-2638

One of our data center solutions specialists will work together with you to find the optimal solution for your system.