TEMPEST KVM Extenders compliant with SDIP 27 Level B / Zone 1
IHSE's 477 series KVM extenders are designed for TEMPEST designations required by military organizations. As a security standard, TEMPEST pertains to the technical security countermeasures, standards, and instrumentation that prevent or minimize the exploitation of vulnerable data communications by technical surveillance or eavesdropping. The 477 TEMPEST series accomplish the quality and security standards in accordance to NATO SDIP 27 Level B used in Zone 1 environments.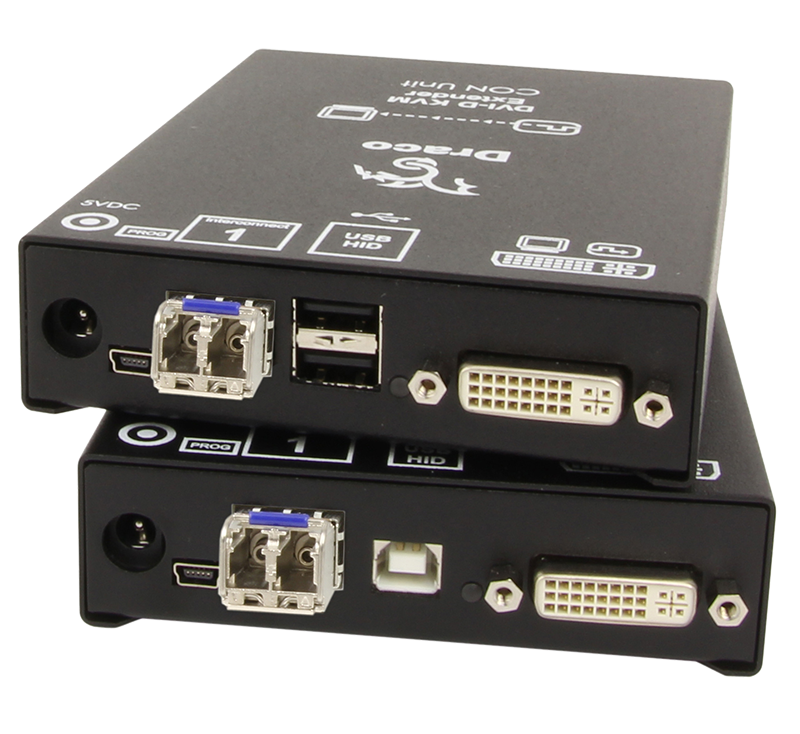 These TEMPEST compliant fiber optic products from IHSE USA can extend DVI video signals with perfect quality up to 10km over fiber. Images are displayed without delay, brilliantly clear and with perfect resolution quality. Additionally, commercial off-the-shelf computers with USB-HID keyboard and mouse ports can be connected to these extenders to complete the keyboard, video, mouse (KVM) distribution. They are used for simple point-to-point applications making them perfect for installations that require secure long-distance digital video transmission and reliable presentation of high resolution graphics, including training, simulation, visualization and command and control environments in medical, educational, government, aerospace, oil & petroleum and post production.
The 477 single-head series transmitter and receiver let users extend computer video, keyboard and mouse signals up to 10km over a secure fiber optic connection. They support DVI-D resolutions up to 1920×1200 @ 60 Hz. The 477 dual-head is double-height model with the same features, but allows up to two computers connections per unit. Each device includes a mini-USB port for setup and configuration.
The 477 series combine multiple video encoding technologies devised by IHSE to deliver the very best picture while a pixel mapping ratio of 1:1 to ensures authentic display of the source video. With IHSE's intelligent video encoding, the 477 series extenders ensure outstanding visual display, a critical feature for command and control environments demanding high quality full motion video. When there is a need to deliver full motion video images, the 477 series has the capability to process full screen moving video in real time without artifacts and near zero latency.
Rack mount kits and under-the-table mounts are available.



Federal Office for Information Security
The Federal Office for Information Security (Bundesamt fur Sicherheit in der Informationstechnik abbreviated as BSI) is the German government agency in charge of managing computer and communication security for the German government. It's areas of expertise and responsibility include the security of computer applications, critical infrastructure protection, Internet security, cryptography, counter eavesdropping, certification of security products and the accreditation of security test laboratories. The Federal Office for Information Security is located in Bonn and has over 400 employees.
Key Features and Benefits
Support for DVI-D and USB-HID.
Optional dual-head for multi-monitor workstations.
Virtually lossless image quality with IHSE's compression technology.
Transmit DVI plus USB up to 32,800 feet (10 kilometers) over a single fiber optic cable.
Computer video up to 1920×1200 or 2K video displays.
USB-HID for keyboard and mouse.
Connect units using standard COTS LC connections.
Supports EDID and DDC data for sink/source acknowledgement.
Simple keyboard commands (hotkeys) for transmission of remotely connected monitor's DDC.
LED indicators for signal presence and power.
Energy efficient power supply.
Get the best in space, power and cost savings
Redundant power option available.
Compact size for areas where rack space is limited.
easily locate CPU's in protected areas to isolate valuable equipment against dust, water and vibration.
Avoid theft and unauthorized access by locating CPU's in locked server rooms.
Reduce workspace clutter by linking multiple displays to a single keyboard and mouse system.
Reduce energy consumption by locating CPU's in a centralized location.
Reduce noise pollution by moving CPU's away from the users workspace.
Product Options
L477-1SHS-TLB
KVM single-head transmitter for DVI-D and USB-HID
L477-1SHSA-TLB
KVM single-head transmitter unit for DVI-I, USB-HID, analog audio and RS-232
L477-2S4S-TLB
KVM dual-head transmitter unit for DVI-D and USB-HID
R477-1SHS-TLB
KVM single-head receiver unit for DVI-D and USB-HID
R477-1SHSA-TLB
KVM single-head receiver unit for DVI-I, USB-HID, analog audio and RS-232
R477-2S4S-TLB
KVM dual-head receiver unit for DVI-D and USB-HID
55,000+ Client Companies Have Chosen 42U
There's a reason we're the #1 choice of so many IT professionals.
Contact us and experience why.

Questions? Call us.
Call in and speak with one of our knowledgeable solutions engineers who will answer any questions you might have.
1-800-638-2638

One of our data center solutions specialists will work together with you to find the optimal solution for your system.