K445 Series | 2X DVI splitter cable
2 x DVI Splitter Cable, up to 1920×1200 – 445-2X
The 2 x DVI splitter cable allows distributing the data of a single DVI graphic card to two monitors simultaneously, remaining full quality. There is no difference between the digital display of the video data compared and the original signal. An external power supply is not required due to the power supply via USB. Because of its compact design as a cable solution, the splitter can be implemented everywhere very easily.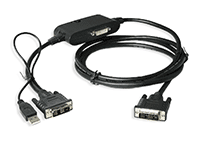 Support of DVI-D Input and Output.
Output: All DVI Single Link resolutions regarding DVI-standard for the use of TFT monitors.
Resolutions of up to 1920×1200@60Hz.
Plug & Play.
DDC-Information can be transmitted by both monitors.
Perfect video quality at all resolutions.
Compact and flexible design.
No external power supply required.
55,000+ Client Companies Have Chosen 42U
There's a reason we're the #1 choice of so many IT professionals.
Contact us and experience why.

Questions? Call us.
Call in and speak with one of our knowledgeable solutions engineers who will answer any questions you might have.
1-800-638-2638

One of our data center solutions specialists will work together with you to find the optimal solution for your system.