42U Data Center Design Services
Whether you are building a new data center or providing for the ever increasing power and cooling demands in a current facility, your project will require a mix of data center specific talent and expertise including: engineering, mechanical and electrical contracting, business analysis, and project management. Since 1995, 42U has been a leader in providing data center solutions. We understand the special requirements of mission critical facilities and will create the most cost effective solution that meets the demanding availability needs of your business.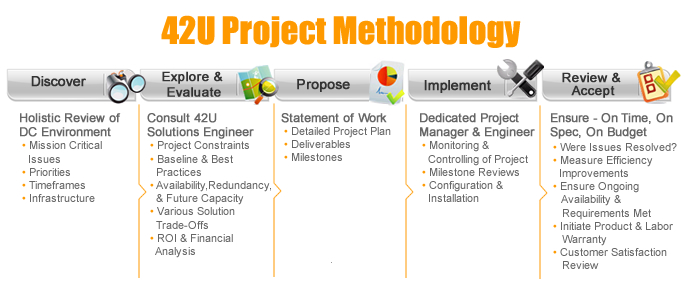 Data Center Engineering / Design / Infrastructure Experience
More than 40+ years combined designing, engineering, and managing advanced technology systems and data center facilities
10 years control systems design experience
Unique understanding of small space / tenant constraints allows 42U to provide services for any size server room
Superior knowledge of data center power and cooling topologies fostered over 18 years of continuous industry excellence
Data center experience and understanding of IT all the way down to the chip level leads to holistic efficiency solutions
Experience in implementing data center efficiency best practices results in power and cooling optimization for increased ROI
42U provides vendor agnostic solutions to best meet our client's data center needs. Since 1995, 42U has developed strategic relationships with the Data Center industry's leading Data Center Power, Cooling, Modeling and Measurement, Management, and Infrastructure manufacturers.
Our data center design solutions are tailored to your specific needs and designed to significantly reduce your energy costs and footprint while improving your server room power, cooling, and space capacity. You gain these benefits without sacrificing reliability. In fact, 42U's power and cooling solutions allows you to easily build in redundancy. Our engineers take the time to understand your needs and design solutions to support higher density footprints, eliminate over provisioning, and reduce upfront capital expenditures. Our data center designs offer you the ability to build as you grow.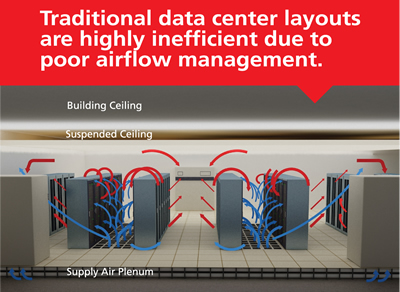 Facing power and cooling capacity issues?
42U understands the challenges faced by today's data centers - skyrocketing energy costs, unprecedented user demand, 99.999% uptime, insufficient power, and over-cooling. Data Center Managers report that the cost of electricity and cooling in the data center far exceed the cost of the equipment.
42U's engineers design custom data center solutions to provide precise power, cooling, and monitoring based on your specific infrastructure needs. These solutions meet both uptime and redundancy requirements. In addition, our data center monitoring solutions can help you gain complete visibility from a single pane of glass. Utilizing our 18 years of onsite data center experience and client feedback, and our vast experience with leading manufacturers' technologies, 42U's data center design solutions are built from scalable, integrated components making them ideal for new data center builds and retrofits.
Whether you are building a new data center; addressing power, cooling or space capacity issues in your server room; or looking to make energy efficiency improvements to an existing computer room, 42U can help.
Our Data Center Design Services include:
MEP (Mechanical, Electrical, Plumbing) Data Center Design
Retrofits, Remodels, Expansions, & New Construction
Turn-key Design / Build Options
In Situ (in-place) Upgrades
High-Density Modernization
White Space Optimization
Start to Finish Project Management

Space Feasibility Analysis
Monitoring Solutions
Operation / Maintenance Procedure Development
Emergency Procedure / Contingency Plan Development
Programming
Rebate Availability Analysis and Design
Peer Review - Best Practice Design Evaluation
Green Designs for Sustainability
Data Center Design
• System Analysis
• Site Evaluations
• Utility Evaluations
• Master Planning – Statement of Requirements
• Engineering
• Energy-Efficient Green Data Center Planning
• Single Point-of-failure Studies
• CFD Modeling
Mechanical Systems
• Hot & Cold Aisle Topology
• Energy Efficient & Sustainable Systems
• Environmental Air Conditioning Systems
• Chilled Water Systems
• In-row Cooling Systems

Communications Infrastructure
• Racks, trays and cabinets
Electrical Systems
• Uninterruptible Power Supply (UPS) Systems
• Standby Power Systems
• Power Monitoring
• Power Distribution Systems
• General Lighting Systems
• Thermal Testing and Inspections
• Environmental Monitoring Systems
Construction
• Project Management
• Estimating and Budgets
• Site Supervision

Preventative Maintenance
• UPS / Battery
• Air Conditioning
• Standby Generator
Data Center Design Leadership:
Scot Heath, PE
Heath brings more than 30 years of engineering experience and will be leading 42U's professional services and engineering division. Prior to joining the 42U team, Heath held various design and management positions with GE and Hewlett Packard with hands on experience designing from the chip level to the power plant. He was most recently the power and cooling principal for HP's Business Critical Server organization where he consulted on both high end computer power and cooling designs as well as HP's internal data center projects. Heath is registered as a professional engineer and is an active member of both the American Society of Heating, Refrigeration and Air-conditioning Engineers and the Green Grid where he is a past sub-committee chair.