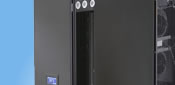 Rittal LCP - In-Row Precision Cooling
Self-contained precision cooling system that installs within a row of racks - close to the server heat source - for the most efficient cooling of critical IT equipment.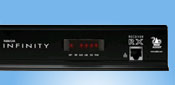 ADDERLink INFINITY
A desktop extension system that allows you to build a flexible infrastructure, the likes of which has not been possible before.
Data Center Monitoring
Wireless & networked monitoring devices and software to improve efficiency and help ensure maximum uptime.
The ROI on environmental monitoring systems can be significant and lead to improvements in both availability and efficiency. 42U's engineers have recommended and installed advanced environmental monitoring systems for Fortune 500 companies with data centers nationwide. We provide end-user training and offer custom onsite consulting to help insure that our clients achieve substantial uptime and efficiency improvements from their monitoring systems.
Data Center monitoring systems provide visibility into the key environmental factors that could affect availability such as temperature, humidity, air pressure, particle count, and leak detection. Some integrate CT's (current transformers), branch circuit monitoring, and/or can pull power consumption details from PDUs or smart plugs enabling you to track your power efficiency down to the rack or server. Significant power utility savings can be realized by understanding the environmental factors that cause airflow problems, and by making intelligent adjustments based on your actual data. Also available in some systems are real time graphical representations of your data center environment including your PUE (Power Usage Effectiveness).
Real time monitoring features enable some systems to store and playback historical environmental data enabling you to easily graphically view challenges or improvements in temperature, humidity, and pressure for each zone in your data center.
Data Center Monitoring with Active Controls
One of the most exciting monitoring developments is the integration of Active Controls, which utilize the environmental data provided by the monitoring system to dynamically manage CRAH temperature set points and variable speed fans, thus providing immediate and often substantial power savings.
The Return On Investment for Environmental Monitoring Systems
Data Center Monitoring, Temp and Humidity Sensors, Power Meters, and Airflow and Efficiency Measurements can help alert you to potential issues while helping you reduce operation costs. TCO, ROI, CapEX. It used to be that a data center's fundamental mission was to stay online at all costs. Today, availability is still paramount, but costs and fiscal metrics receive more scrutiny than ever.
The reason? Energy use across US data centers has ballooned into the $billions. Similarly, downtime for a financial firm or an e-commerce enterprise can reach $millions in minutes.
These serious financial consequences require data center owners to be equally proactive addressing inefficiency and safeguarding uptime. To do so, they need intuitive, impactful tools that go beyond simple Visio documents and Excel spreadsheets.
42U responds to this challenge with a suite of data center monitoring products that provide data centers the visibility and operational intelligence to continually optimize their facilities.
The Power of Visualization
Thermal Mapping
Airflow and temperature are two of the most important subsets of data center cooling. But, to this point, monitoring each in a production environment has proven difficult. Computational Fluid Dynamics (CFD), while valuable for design validation, represents a snapshot of operating conditions. When these conditions change, a new model is required, usually with hefty consulting charges.
Thermal mapping provides a flexible, less-expensive alternative to CFD. The thermal maps provide real-time, color-coded visibility into a data center's operating environment:
Temperature maps provide color-coded temperature profiles throughout the facility and can identify hotspots or areas of overcooling
Humidity maps provide color-coded humidity profiles throughout the facility
Pressure Maps compare the pressure differential between raised floor spaces and air delivery plenums
Unlike CFD, which requires input into the model, thermal mapping creates this imagery in real-time via the end-to-end hardware and software solution. As users make improvements, they see the fruits of their labor immediately.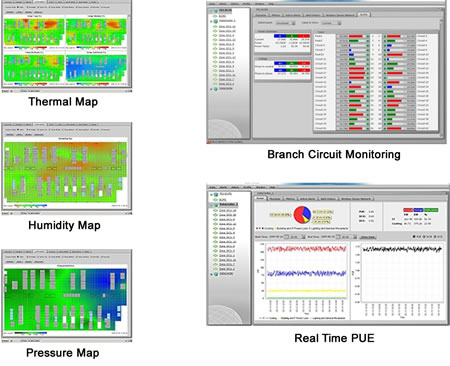 Branch Circuit Monitoring
Branch circuit monitoring takes the guesswork out of power usage, equipment provisioning, and capacity planning. Users can drill down to the consumption of each circuit, understand circuit loading and available capacity, and can even implement billing procedures and protocol based on actual circuit power use.
The example below underscores the power of branch circuit visibility. Users can set alarms around power thresholds and receive prompt notification if a circuit is in danger of tripping. Moreover, the color-coding element provides a clear path for safely installing new equipment.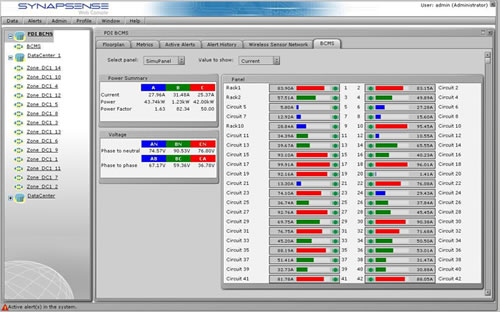 Data Center Branch Circuit Monitoring - PowerImaging control panel
IT & Facilities Convergence
In large organizations, the divide between IT and Facilities is well-documented. However, in many small to mid-size enterprises, the line between these two groups is often blurred. Consider a regional hospital or university; an IT team of system administrators and network engineers may own the physical data center while facilities personnel work with the larger campus infrastructure. To ensure reliability, the IT staff can't only concern themselves with their professional comfort zones; they need visibility into physical infrastructure that supports the data center-generators, UPS, HVAC. If the campus chiller suddenly goes offline, data center operations could be compromised.
These real-time monitoring solutions not only allow professionals to understand the data center environment; they can also pull real-time information from supporting infrastructure products, and bring them conveniently into a single pane of glass. In effect, data center professionals can have mechanical and electrical "one-line" diagrams displayed on their screens.
Thermal Image
CRAC Supply and Return
Temperature Graph
Central Plant Visualization
In instances where remote infrastructure reports to a BMS, these monitoring systems can utilize communication gateway devices (Modbus, Bacnet) to pull data points into the software interface. In the event remote infrastructure is not metered, communication cards, in most cases, can be installed to facilitate system integration.
Instrumentation Options
There are many instrumentation options given a data center's unique equipment list and layout. Some of the possible measurement points and possible measurements include:
Racks:

Cold Aisle Temperature
Hot Aisle Temperature
Humidity
Thermal Maps
Bypass airflow %
Recirculation airflow %
Rack Cooling Index (RCI)

Sub-floor:

Differential pressure between plenums and the raised floor.

Chilled Water Flow:

An ultrasonic flow meter measures water temperatures and flow rate

CRAC/CRAH:

Supply Temperature
Return Temperature
Humidity (RH and dew point)
Air Loss %

PDU/RPP:

Branch circuit monitoring
Power Panel Monitoring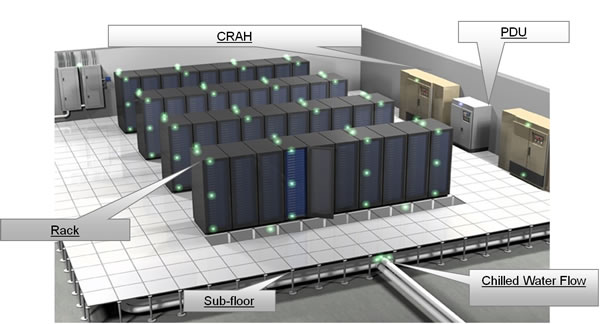 Disparate vendor products and protocols now speak the same language: efficiency.