Video Splitters-The Basics
Video Splitter Products Let You Share Your Computer or Video Output
by 42U
A video splitter is a device that takes one signal from a video source and replicates it over multiple monitors. The number of times that a video splitter divides the signal varies; video splitters currently on the market provide divisions for as few as two ports or as many as hundreds of ports.
There are two main types of video splitters: standard VGA video splitters and Cat 5 video splitters.

Standard VGA Video Splitters:
Standard VGA video splitters allow a single VGA video source to simultaneously drive 2, 4, 8, or 16 SVGA, VGA, XGA, and Multisync monitors. Standard VGA video splitters use coaxial-style VGA cables to connect the target video source to multiple monitor feeds.
Applications
Standard VGA video splitters can be effectively used in settings that require images to be replicated on several monitors. They are often used in classrooms, at tradeshow venues, in point-of-sale displays at retail stores, and in airports.
Resolution
Supported resolution is often as high as 1900x1200, assuming that the split monitors are not more than 20-30 feet away from the video source. If a monitor is extended past 20-30 feet, video degradation and ghosting may result. To mitigate this problem, some video splitters include a built-in signal booster, which allows the video signal to be extended up to 200 feet over a standard VGA cable.
Products
42U offers the NTI VOPEX-2V-H and the Aten VS138. Most video splitters use standard VGA-style HD15 connectors.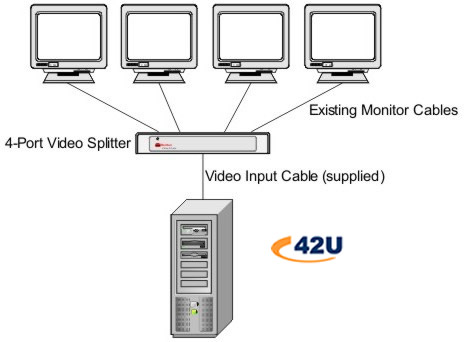 4-Port Video Splitter Illustration
Cat 5 Video Splitters:
A Cat 5-based video splitter differs from a standard VGA video splitter mainly by the type of cable that is used to connect the target video source to the multiple monitor feeds. While standard video splitters use coaxial-style VGA cables, Cat 5 video splitters implement thin Cat 5 cabling, which reduces the cabling nightmare often presented by standard video splitters. In addition, some Cat 5 video splitters (for example, Minicom's VDS product line) allow a user to darken all remote monitors while administrative changes are being made. Cat 5 splitters allow multiple targets to be extended up to 820 ft from the video source.
Applications
Cat 5 video splitters can be used in the same settings as standard VGA video splitters and are often better suited for applications where distances are greater and more monitors are required.
Resolution
Minicom's Cat 5 Video Display System can transmit hundreds of real-time remote video displays up to 1600x1200 at 75 Hz. Minicom's 2 and 4-port Cat 5 UTP video splitters support high-resolution video at 1280x1024 at 75 Hz.
Products
DirecNet offers several CAT5 video splitters including the following:
• The Minicom Cat 5 Video Display System doubles as a video splitter and a Cat 5 video extender. The main Broadcaster unit connects to the single output VGA host and has ports to split 8 remote monitor feeds. Micro-sized remote dongles are needed at each extended monitor. After 8 ports are exceeded, to add 7 additional feeds a Line Splitter can be attached to any output from the Video Display System Broadcaster unit.
• NTI's VOPEX series is similar to the Minicom Cat 5 Video Display System, although it differs in port density. The VOPEX-C5V-16 central video splitter offers 16 ports instead of 8. Since NTI does not offer an optional line splitter with the VOPEX-C5V-16, users must incorporate standard daisy chaining to add more than 16 ports.
• Minicom offers a 2 and 4-port Cat 5 UTP video splitter, which can simultaneously broadcast video images to two or four monitors. Users can extend monitors 360 feet or 820 feet by using either required remote receiver. Minicom's Cat 5 UTP video splitters can not implement a Line Splitter; however, units can be chained together to gain dozens of additional ports. Minicom's Cat 5 UTP video splitters support VGA, SVGA, XGA, and Monochrome monitors.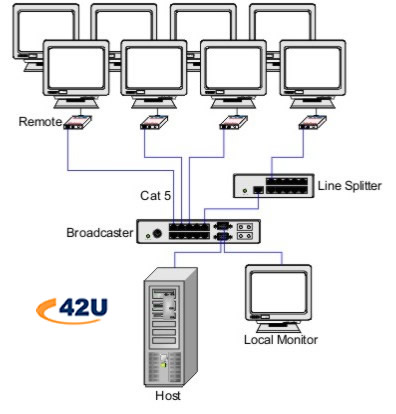 Minicom Cat 5 Video Display System
(showing rear-view connections)
Ready to purchase your video splitter or wish to view discounted pricing online?
We recommend KVM Switches Online for all your video splitter, DVI Splitter, digital signage hardware and video switch needs.
About 42U
42U focuses on providing Facilities and Data Center Managers with objective and trusted independent information on Data Center Power and Data Center Cooling best practices along with KVM over IP and Remote Power lights out management to help them reduce their organization's power consumption. Our Data Center Management website has helped millions of IT professionals globally who search for best practices and technologies to help them make their computer environment more efficient.

This work is licensed under a Creative Commons Attribution-No Derivative Works 3.0 Unported License.