What is a KVM Splitter?
Share A Computer With Two or More Users with KVM Splitters
by 42U
A KVM splitter, also called a "reverse KVM switch," creates two or more keyboard, mouse, and monitor access points to one computer, and allows all attached keyboards, mice, and monitors to function as though they were connected directly to the target computer.
KVM splitters can be used successfully in a variety of applications. For example, they work well in offices or manufacturing plants that require multiple monitoring stations to accomplish similar or identical tasks. Instead of using (or purchasing) a second computer, a KVM splitter allows two or more users to share the capabilities of one computer without installing software on the target system.
It is important to note that KVM splitters do not allow users to work on different programs. All users accessing the KVM splitter are required to view the same application at all times, as KVM splitters do not provide multiple instances on the same computer, only multiple points of access to the same peripheral connections.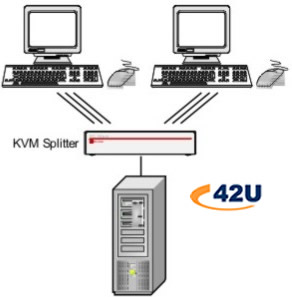 2-Port KVM Splitter Diagram

Modes of Operation:
Some KVM splitters offer modes of control to limit user activity. "Delay Mode", which permits active users to lock out idled users for a specific amount of time, is the most widely available function. Some products, such as Raritan's PC Share device, allow users to change the delay mode from 2 to 99 seconds.

NTI's PS2 KVM Splitter has multiple modes of operation. For example, "User 1" mode allows only "User 1" to type or activate the mouse, and all remaining users under this mode have "Video Only" functionality. In order for all users to retain keyboard and mouse control, "User 1" is required to change the mode back to "Delay Mode."

Product Offerings:

Aten
Aten offers the low-cost and simple CS221 2-User KVM Splitter, which can not be expanded beyond two users. The Aten CS221 (off site link) allows users to choose between PS2, Serial and AT peripherals, and since the computer-to-KVM splitter cable is included, users plug peripherals directly into the CS221. Auto, Manual and Private modes can be selected for operation. However, multiple dip switches must be changed in order to activate each setting. The CS221 does not require additional accessories.

Raritan
The Raritan PC Share is a 5-user KVM Splitter-three users connect locally and two users have remote access up to 1000 feet away. The two remote users access the PC Share device through Raritan's Cat 5 Reach system, which on its own, is a simple KVM Extender over Cat 5. The transmitter portion of the Cat 5 Reach works in conjunction with the PC Share, which allows users remote access when the external receiver boxes are placed at their user stations. The remaining three users are required to connect directly to the PC Share. Remote receivers, as well as user cables, must be purchased in addition to the PC Share. The KVM splitter to computer cable is included.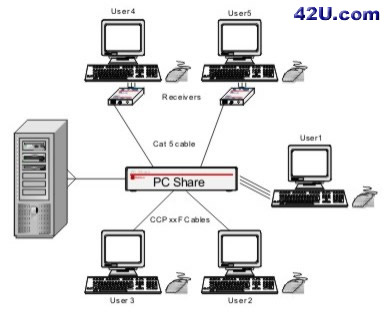 Diagram of Raritan's PC Share Device
(3 Local Users and 2 Extended Users)


Rose Electronics offers a rack mountable MultiStation KVM Splitter. The MultiStation allows multiple users to connect on a first-come, first-served basis to a single computer. Proprietary user cables and computer cables must be purchased along with the MultiStation KVM Splitter. • What is a Video Splitter?

About 42U
42U focuses on providing Facilities and Data Center Managers with objective and trusted independent information on Data Center Power and Data Center Cooling best practices along with KVM over IP and Remote Power lights out management to help them reduce their organization's power consumption. Our Data Center Management website has helped millions of IT professionals globally who search for best practices and technologies to help them make their computer environment more efficient.

This work is licensed under a Creative Commons Attribution-No Derivative Works 3.0 Unported License.