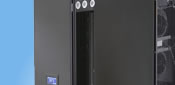 Rittal LCP - In-Row Precision Cooling
Self-contained precision cooling system that installs within a row of racks - close to the server heat source - for the most efficient cooling of critical IT equipment.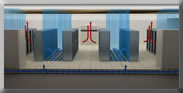 Save Big with Aisle Containment!
The Right Hot Aisle / Cold Aisle Containment strategy is an economical way to maximize airflow dynamics, increase data center efficiency, and save costs on your utility bill.
Server Room Cooling Solutions for Server Racks, Computer Rooms, Server Rooms & Data Centers
If you read server room press and blogs, you've been inundated with stories of cloud moguls or (solvent) financial firms building their latest 100,000 ft2 facility.
Back on the ground, a short drive from Wall Street, thousands of server rooms, computer rooms and wiring closets drive SMB enterprises, local hospitals, and city governments-groups who face the same power and cooling crunch without the comfort of million dollar budgets.
Server Room Cooling Systems
42U's computer room cooling solution specialists have the product knowledge and application experience to optimize your server room environment:
We've retrofitted office spaces into high density computer rooms.
We've turned cooling/power strapped computer rooms into scalable, optimized server rooms.
We tailor unique cooling solutions to your computer room environment and objectives.
Server Room Cooling Systems for Smaller Spaces
Comfort cooling (or building HVAC) lacks the precision and controls required for modern server room hardware. Yet, closets, computer rooms, and server rooms don't have the space to install traditional, bulky air conditioners. The products featured below are specifically engineered for smaller computer room spaces.
High Density Computer Room Cooling
Today, it's possible. Technologies normally marketed for enterprise data centers can now fit nicely into smaller spaces. Self-contained cooling units, for instance, function independently of the room. Once installed, users have the comfort of predictable cooling and plenty of headroom for future growth.
The 42U Advantage
42U Sales Engineers conduct thorough pre-sales interviews so that we understand unique client issues, applications, environmental factors and actual usage. We use this information to design and recommend the best server room cooling solution for our clients.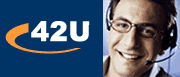 What is the best solution to cool your server room?

Our engineers can help you select the best cooling system for your IT project.
Click here or Call 1-800-638-2638 for a free initial project consultation.