Chilled Water Cooled Precision Air Conditioning For Data Centers
The Liebert CW chilled water system offers rugged, yet affordable cooling and humidity control where a central water chiller is available as a year-round cooling source. In these applications, a single chiller can be used for multiple air conditioning units, providing savings on additional heat rejection components.
The full line of Liebert chilled water systems use Liebert iCOM microprocessor-based controls to maintain precise temperature and humidity levels, while the cooling hardware is designed and built for continuous, trouble-free operation.
The Liebert CW is available in ten cooling capacities, with either downflow or upflow configurations. Two configuration examples shown below:
| | |
| --- | --- |
| Downflow Supply- Designed for raised-floor applications, the downflow air supply configuration is commonly found in data centers and other similar facilities housing sensitive electronic equipment. | Top Front Supply With Plenum & Grille And Front Return- In-the-space applications without ductwork, such as Telecommunications, Networks and Switching Centers, benefit from this economical configuration. Optional high filtration may be desirable. |
Chilled Water Control Valve
The chilled water valve provides proportional control action in response to room temperature and humidity as sensed by the microprocessor control. It includes operating linkage and electronic motor. Unlike other systems of this nature it requires no over-travel linkage or end switches to be adjusted. The control uses "intelligent logic" to eliminate valve hunting, thus greatly increasing the life of the valve. The valve can be a 3-way or 2-way to meet the appropriate requirements of the installed system.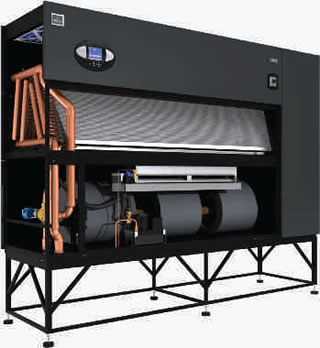 A look inside the Liebert CW
Energy Efficiency
The largest Liebert CW floormount models are available with energy efficiency EC Plug Fans. These energy efficient fans add to the efficiency already achieved by the use of a traditional variable speed drive system. The units with EC Plug Fan deliver energy efficiency gains via the fan system. These electrically commutated fans are a backward curved motorized impeller powered by a direct drive DC Motor with integrated AC-DC conversion. This design uses less energy than standard centrifugal blowers by lowering motor kW. The EC Plug Fan uses 10-30% less energy on average than standard AC motors.
The energy saving capabilities of the Liebert CW with EC Plug Fans or variable speed drive fans result in a quick payback through lower electricity costs.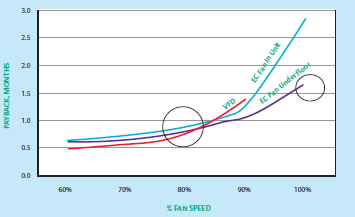 Many utility companies offer a rebate for using these energy efficient options-check with your local utility for details.
Is the Liebert CW the best CRAC solution for your cooling needs?



Our engineers can help you select the best CRAC solution for your cooling needs.
Click here or Call 1-800-638-2638 for a free CRAC project consultation.